Date Night!
When you hear the phrase "date night," what goes through your mind? Do you tingle with excitement and anticipation? Or does it feel like one more things on a never-ending list of things to do? If the second statement sounds more like you, or if you need some fresh ideas for a date night for married couples, you're at the right place!
**If you just need specific date ideas, feel free to skip down to the list sections.**
This post contains affiliate links. As an Amazon Associate I earn from qualifying purchases made from the links on this site, at no extra cost to you. Thanks for supporting our family business!
Table of Contents
How this post is organized
As a mom of six who's been married for over 17 years, I've experienced both feelings about date nights— both the "ho-hum" and the "hooray"! In this post I'll share some of the obstacles that married couples face trying to fit dates into already busy schedules. I'll also share how we found ways to overcome these obstacles. I'll wrap up with a huge list of fun date night ideas for every budget.
Date Nights for Married Couples: Our Story
Someone is already saying, "I can't even remember the last time we had a date!"
I've been there! Dates were few and far between in the first twelve years of our marriage. We had several major obstacles to establishing a regular date night: no money, issues finding regular babysitters, breastfeeding infants…the list goes on.
Occasional help from family members allowed us to have 2-4 dates per year (at most). As we had more children, fewer people were willing to watch them regularly. Realistically, most people aren't used to watching 4 or 5 or 6 children! So we had pretty much given up on regular dates.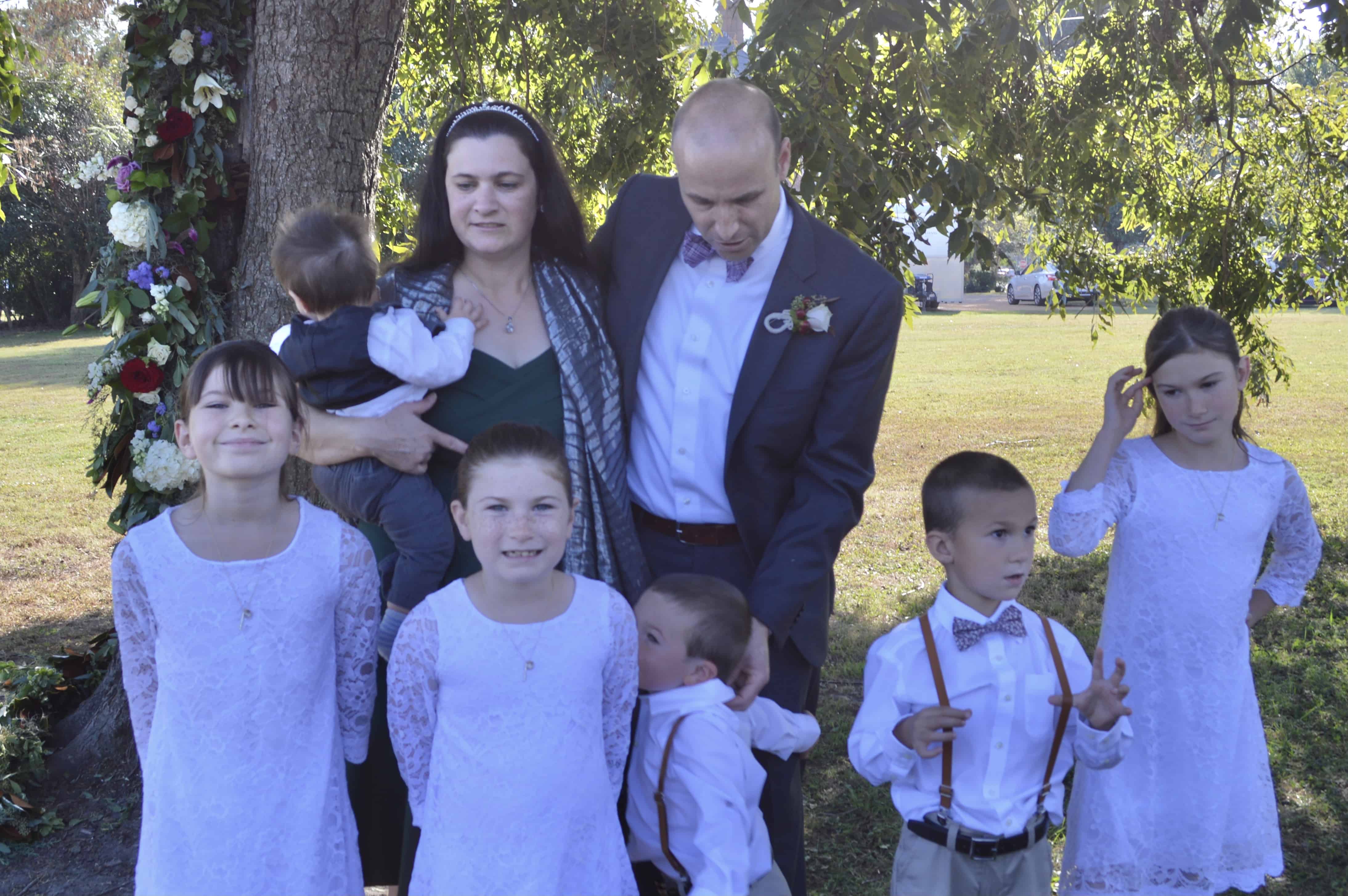 Dating your Spouse—Why?
Regular date nights for married couples are a relatively new concept. My parents, married for over 40 years, rarely had them while I was growing up. This was largely due to the reasons I mentioned in the previous paragraph. I told myself that if they had stayed married without monthly date nights, we could too.
What I didn't realize was that in choosing not to prioritize one-on-one time with my husband, I was selling myself and our marriage short.
Investing in your marriage
It took getting professional counseling for me to realize my mistake. My counselor helped me to see that committing to spend quality time with Brian, without the children, was essential, not an "extra". We both needed the connection and intimacy.
She also pointed out that my husband could plan dates just as well as I could, and that I'd assumed it was all on me to make it work. Somehow this helped my mental block on the subject. Brian was delighted to help me figure out how to make date nights happen more often, and our "date-night-at-home" system was born!
Brian and I recognized that if we didn't consistently invest in our marriage, we were sending the message to ourselves and to others that our marriage was less important than all the other things we were investing in (child-rearing, ministry, work, volunteering, etc.).
We commit time and energy to the things we value. So if we value our marriage and relationship, committing resources to it is a no-brainer.
Benefits may be slow in coming
Our first few dates often ended in arguments. In hindsight, that's not too surprising since we were out of practice and had a lot of communication to catch up on. In the moment though, it felt scary and discouraging.
On other dates, we talked excessively about the work we were doing, or the ministry we were involved in, or the children's needs and activities. Sometimes it felt like date night was more work than fun!
Making it work
However, we persisted. We learned that we needed to plan ahead, set boundaries, and express our expectations, for ourselves and for the date.
For awhile, we had a rule not to talk about work or kids (we scheduled other times for those conversations).
We also gave ourselves transition time before the date started. Brian has ADHD and we both are trauma survivors, so transitions are especially challenging. Allowing time for the transition from work to fun was a good plan.
Setting a regular, recurring time for dates meant that if one date flopped, the next one was coming soon and would give us an opportunity to try again.
Who should plan the date?
We highly recommend sharing this responsibility. Brian and I both have different love languages, and we have different approaches to planning date night.
Brian loves to make big plans and take me to a special place or a new experience. I love to create intimate moments with lots of time for talking or simply being together.
An important factor in the planning process is recognizing the stage of life you are in. For example, if you have a newborn, attending a performance or going to a busy restaurant with inflexible reservations may not be realistic.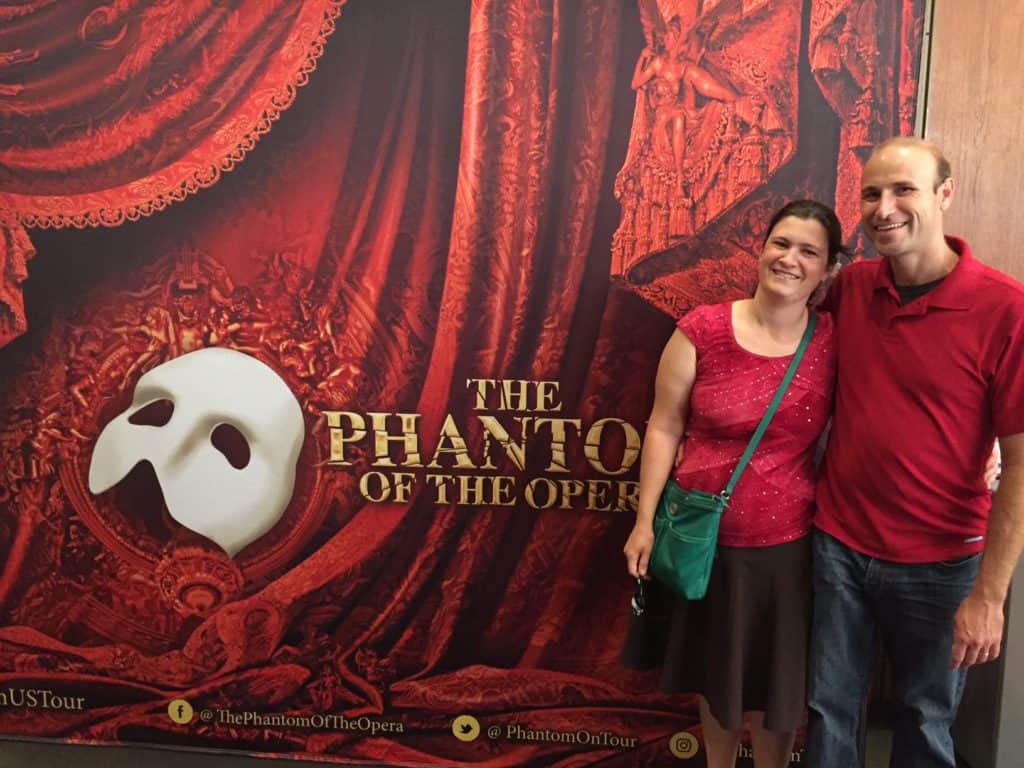 Having a standard format that you can follow for most dates is one of the best ways to ensure date night will happen, even during busy times. In the next section I'll share our standard format for our at-home, no-babysitting-needed date nights.
**If you just need specific date ideas, feel free to skip down to the list sections.**
How We Made At-Home Date Nights Work
Since we had so few dates in our early years of marriage, we decided to play catch-up. We set aside two nights each week to spend time together, just the two of us. That meant that if one date night got cancelled (because of an outside event that could not be rescheduled, or due to illness), we would still have weekly date night.
Babysitting was the first hurdle to overcome. The first two or three years when we started having weekly date nights, we rarely had a babysitter. We didn't have many people who we could ask on a weekly basis. So we came up with our no-babysitter solution.
No babysitter? No Problem!
Brian would feed the kids a basic dinner (chicken nuggets, hot dogs, boxed Mac and cheese, PBJs, etc.). He would then supervise the bedtime routine and tidy the house so it wouldn't be a distraction when I returned.
I would go out shopping, or walking, or do something outside the house during this time. As an introvert, I needed time alone to recharge before I would have space to truly connect with my husband.
I would spend a couple of hours away from my normal home environment (where all I could see was "work") and then come back ready to connect emotionally to my husband. The kids were in their rooms, sleeping or quietly reading.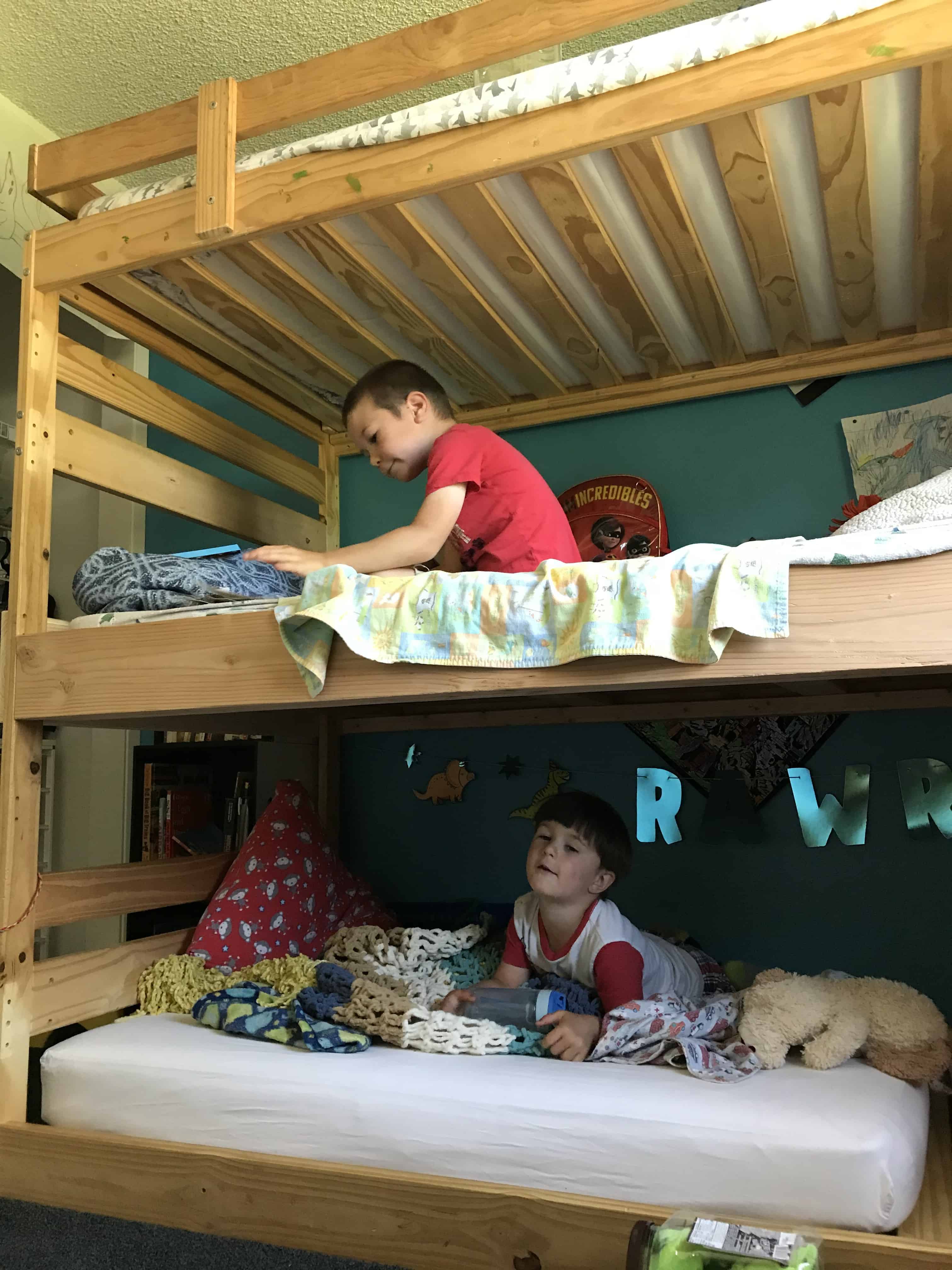 I give this example here because in our home, Brian was usually the one away working during the day. In your home the husband may be home with the children all day, or may need some space to unwind before the date. Do what works for your family.
Expectations for the kids
We also set a boundary with our kids, that during date night they should not come out of their bedrooms except for bathroom or emergencies. We promised them a special treat the next morning if they did not disturb us.
Obviously this did not work with infants, but it still gave us space to have grown-up conversations without little ears listening in.
When babysitting is available
Eventually we connected with a homeschooled teen at our local co-op who was willing to watch the children for a few hours inexpensively. However, having a no-babysitter solution is what allowed us to consistently have dates twice a week.
Budget options for date night food
Food was the other important budget consideration. I don't enjoy cooking. Finding a meal option that involved little food prep was an important part of the date night experience for me.
Takeout from your favorite restaurant is a great option if you can afford it. It's also really fun to try foods from a new restaurant together. A good bottle of wine plus takeout can be the foundation of a beautiful candlelight dinner at home.
However, if you don't want to spend a lot of money, frozen individual meals can be another good idea. We love getting Indian food from Trader Joe's or sushi from the deli case at our local supermarket. Both are tasty, but more budget friendly than eating takeout.
Ideas for Date Night at Home
Date night for married couples doesn't only have to mean "dinner date out at a fancy restaurant". Once we recognized that that key element was dedicated time together, we had some of our best dates ever at home.
Here's a list of suggestions to spark your creativity for your own at-home date night ideas!
Activities
1. Games
Card games like Monopoly Deal, Gin Rummy, or War can add some spark with a little friendly competition. We also play board games like Dominion, Pandemic, Hive, chess, and Castle Panic.
2. Video Games
There are so many fun video games or online games to play together beyond Mario Kart! If you have a Wii, or a couple Nintendo Switches, you can play against each other.
3. TV or movie night
We have enjoyed watching specific TV series together, or movie series, and then discussing them. Some of our favorites are Psych, Star Trek The Next Generation, Mr. Bean, The Lord of the Rings, The Hobbit Trilogy, and the Marvel movies and series.
4. Online dance lessons
There are literally bajillions of YouTube videos teaching how to do different dances. We had fun trying ballroom, rumba, and line dancing in our living room together.
5. Date Night in a Box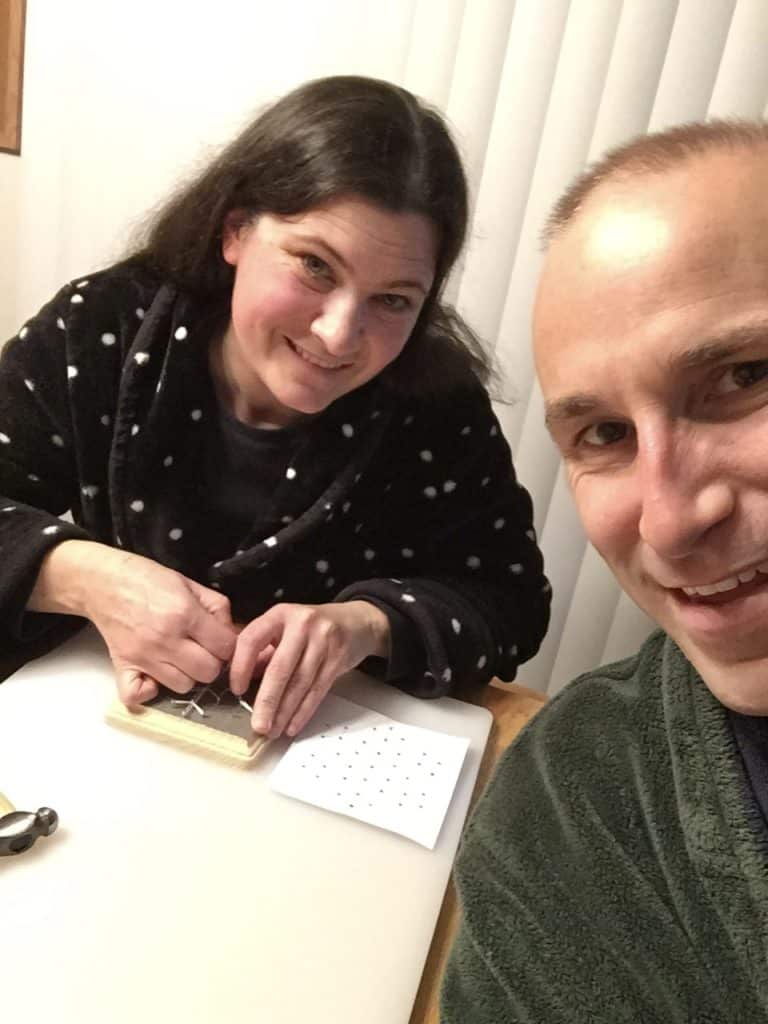 Several Date Night In A Box options are available as subscriptions, and they can be a great Christmas or birthday present for your spouse. Many of the ideas below are available as options for the Date Night in a Box.
6. Cooking something together
This didn't work out for us, because cooking is stressful for me. However, lots of couples do enjoy cooking, so I included it in the list.
7. Have a tasting
Collect different kinds of specialty chocolates, or several beers, or several cheeses, and just try them out. We love discovering new favorites, and learning more about each other.
8. Puzzles
Sitting and working on a puzzle together is a great way to facilitate conversation in a less stressful way. If a standard jigsaw puzzle bores you, try a 3-D puzzle or a mystery puzzle.
9. Walking
Go for a walk around the neighborhood, or around the block. If you have an infant, they can sleep in the stroller. Just sitting outside on your porch or in your backyard and watching life going on around you is a nice break.
10. Craft/ paint together
If you enjoy being artistic or creative, try doing a painting together, or another craft kit. There are tons of tutorials and craft kits online, so you don't have to do the work of coming up with the idea.
11. Spa night at home
Give each other foot rubs, back rubs, massages… take turns. 😉Massage oils or scented lotions can make this even more fun!
12. Fireplace Fun
Enjoy some hot cocoa or soup by the fireplace all snuggled in blankets. Add a little quiet music and delight in a slow, quiet evening. Many introverts would love this kind of date!
13. Yoga or Zumba together
Any kind of fun exercise would probably work here. Quite often we end our days together doing a bedtime yoga sequence, and it helps both of us to calm down and get our minds off work. Try it and see if you can find something you both enjoy.
For even more ideas, here's a link to a blog I love: At-Home Married Date Nights. She has multiple articles on doing date night at home with your spouse.
Date Night for Married Couples: Out and About
The good news is that children eventually grow up and you have the freedom to go on dates without needing a babysitter. Now that our kids are older and we both work from home, we love getting out of the house for dates whenever possible!
We often still have a limited budget to work with, so here's a list of free date night ideas.
Free Date Night Ideas
1. Explore an antique store
We always find funny or interesting things when we visit antique stores. Check out this TikTok of the fun find we saw recently!
2. Architectural salvage store
An architectural salvage store is also a really fascinating place to explore, especially if one or both of you enjoys history or home improvement shows and projects. You never know what great ideas you'll get here!
3. Go to flea market, local craft bazaar, or farmer's market
You don't have to buy anything, just check out the fun and creative things people are selling.
4. Go for a walk in a local park, or visit a new park nearby
It's often easier to talk about things while walking, especially if you don't have to look directly at your partner while you're sharing. Feeding ducks and geese can be fun too if it's permitted.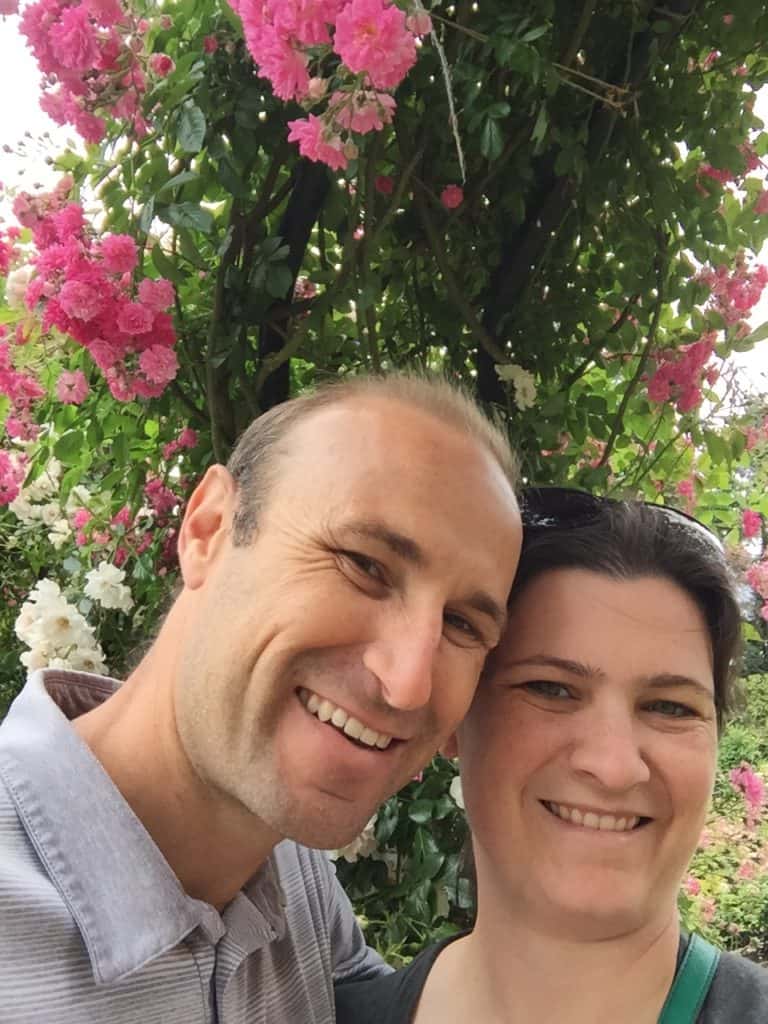 5. Take a bike ride together
Get out and explore in a new way! Lots of cities are now creating bike-friendly paths. If you don't own bikes, ask a friend or check for rental bikes- many places now offer them.
6. Go to the library and pick out some books to borrow
You can also choose a movie to watch, or an audiobook to listen to together. Even better, many libraries now offer craft kits, cooking tools, or special board games that can be borrowed. This is a great way to try some things inexpensively if you don't know what hobbies you enjoy together.
7. Take advantage of a free museum day
Most museums offer a free admission day. Check ahead and schedule a date for that day so you can enjoy it. Be aware that some popular museums for families may have a lot of children visiting on the free day, so this option isn't for everyone
8. Check out free music or cultural events in your local area.
We've been astonished at how many towns in our local area have free music, free movies in the park, or parades!
9. Visit local art galleries
If you attend on the night a show opens, you can often enjoy some light snacks and drinks as well as see the beautiful artwork.
10. Take a drive together and explore a new place
You can also listen to a podcast or audiobook while doing this and discuss it together.
11. Free tours
Search your area for free self-guided tours: many towns and cities have something like this available. We enjoy the murals in many local cities here in Oregon, and we recently explored part of the covered bridge tour in our area.
Cheap Date Ideas
If you have a little more wiggle room in your budget here's some inexpensive date ideas. Note: Many of these activities require an upfront purchase, but after that the activity is free. When you find an activity like this which you both enjoy, give each other the gear or equipment for birthdays or holidays.
1. Have a coffee date at your favorite local coffee shop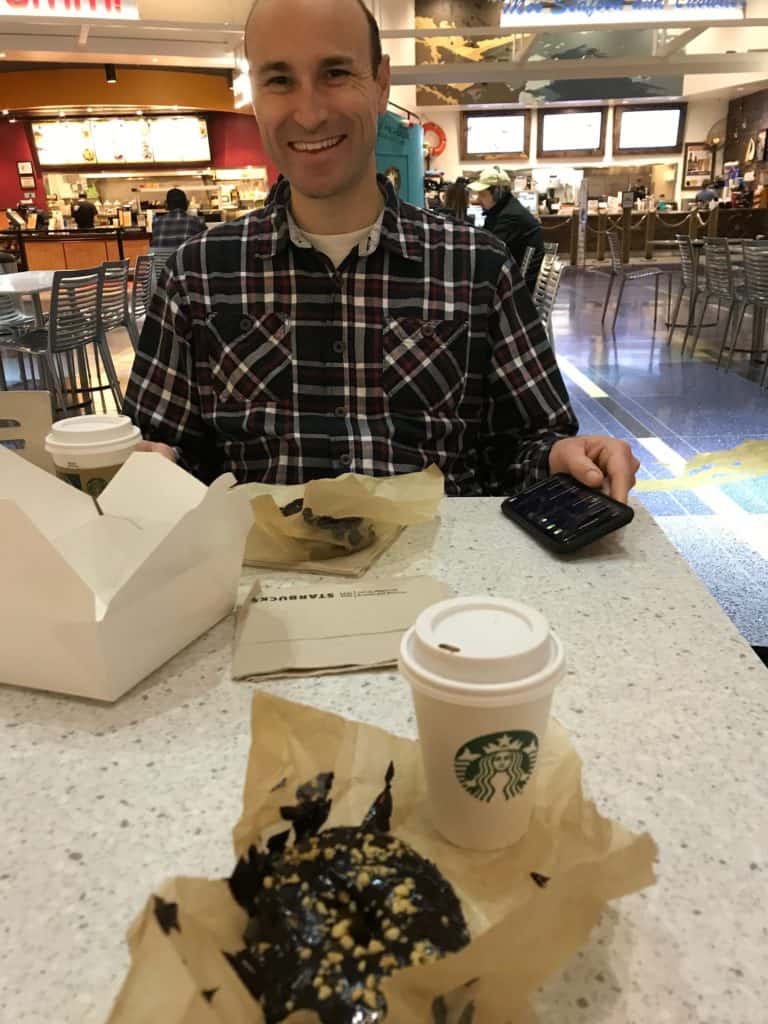 A pastry and coffee for each of you is pretty affordable as date food goes. You can also split a sandwich for lunch.
2. Walk around at a botanical garden
Check ahead of time to see if you can bring your own food and enjoy a picnic lunch for an even more romantic date!
If the weather is hot, cool off at your favorite water spot. If it's cold, just enjoy walking along the river's edge, or along the shore.
4. Go for a hike
I am a firm believer in leisurely hikes, but if you and your loved one enjoy longer, difficult hikes, have at it!
5. Go bowling
Most cities and towns have bowling alleys that offer inexpensive games on weeknights. Some even have full restaurants available, so if you haven't checked out a place like that recently, I highly recommend it.
6. Visit a nickel video game arcade
Air hockey, Skeeball, PacMan and other classic games make this a perennial winner. Friendly competition is good for romance!
7. Window shop at the mall or in a shopping area
With 6 kids, we are always preparing for a holiday, birthday, or event and sometimes it's hard to find time to shop together online. So now we often do this kind of errand together and it allows us to accomplish two things at once! Working together on any kind of task or project can be a great connection time.
8. Take photos at an instant photo booth
DO THIS! Every time we find a photo booth and take a few minutes to get new photos, I LOVE the results! We just enjoy the silliness and frequently wind up with more natural facial expressions.
9. Go ice skating or roller skating
If you have a local skating rink, this is a fun way to be kids again! I admit I'm not very good at skating, but Brian is and he enjoys the opportunity to hold hands often while steadying me. Maybe some hand-holding time is just what you and your spouse need too!
10. Complete a scavenger hunt (find some free ones online)
Pick a seasonal scavenger hunt and go out looking together. This also makes a great double date activity or group date activity!
11. Put together a special picnic lunch and go somewhere pretty
There are so many ways to make this special, and I highly recommend purchasing a decent picnic basket or cooler so that it's easy to do. Even if the food is nothing special, getting into a different environment is so worth it!
I've written a post specifically about Valentine's Day picnic ideas if you need tips.
12. Check out garage sales or estate sales in your area
Some couples enjoy the challenge of finding something worthwhile and reselling it, while for others it's just a fun way to explore different styles. Sometimes our best laughs come when we get in the car, pull away, and then burst out laughing at some hideous clothes or object that someone is trying to sell!
Romantic Date Ideas
Everyone remembers the spark of early romance, and how much passion you started out with. While the passion doesn't usually stay at the same level all throughout your marriage, quite often you can renew it with a little bit of extra effort.
Here are some romantic date ideas to help you remember why you fell in love to begin with.
1. Visit a spa together
Our modern life is so busy and intense! Perhaps a restful spa day will be just the thing to give you space to breathe again. Couples massages, or soaking in a hot tub or sauna can be restorative not just for your body, but also for your relationship.
2. Write each other love letters
Alternately, dig up some of the letters you wrote to each other when you were dating and take turns reading them. Looking through photos and mementos from your early romance can be a good way to reconnect.
3. Re-create your first date, or a special occasion date
Places, smells and sights work powerfully in our mind to evoke memory. If you have the opportunity to revisit or recreate a special moment, do it!
4. Go to a romantic movie/ play together
I'm not a chick flick person generally, and Brian is even less so. However I've found that the right kind of romantic movie or performance really can help get us both in the mood. Watching another couple who is madly in love helps me remember that I am also madly in love!
5. Take a dinner cruise on a local river, or at the coast
As long as neither of you suffers from motion sickness, dinner cruises are a beautiful date idea.
6. Find a local scenic train ride or horse-drawn carriage ride
The slower pace and scenery passing by is great. An added benefit is that you both can enjoy the trip, and no one has to be the designated driver.
7. Go wine tasting
A tour can be great if you want to leave the driving to someone else. However just staying at a single vineyard and enjoying a flight and snacks is relaxing too. We've tried both options, and going by ourselves was our favorite.
Adventurous Dates
1. Take a city sightseeing tour
Even if it's your hometown, you're still almost guaranteed to learn something new and find a new "secret spot!"
2. Participate in a city scavenger hunt
We did this once with friends, and it was so much fun! You usually work in a team against other teams, and you also frequently discover new places you never noticed before. Groupon often has good deals for this kind of event.
3. Do an escape room as a double date with friends
I'm super excited to try an escape room for an upcoming date!
4. Take a hot air balloon ride
This requires an early morning wake-up, but it's an unforgettable experience! I don't like heights, so I wasn't sure how this would work for me, but I truly enjoyed it.
5. Visit a zoo, wildlife refuge, or aquarium
Sure, most people think about these locations for kids, but we adults still enjoy them! Splurging on extra/ backstage experiences like feeding an animal, or doing a safari tour, makes unique memories.
6. Go horseback riding
We did this on our honeymoon, and it was so much fun to see the wilderness on horseback. I do have to recommend padded bike shorts if you're not a regular rider— you'll thank me later!
7. Go to a sporting event for your favorite sport
Cheering for the home team, or for your favorite team is a great way to connect. People-watching at these events is almost as much fun as watching the game.
8. Visit a carnival, state fair or amusement park together
As an added perk, waiting in line provides ample time for conversation. Sharing fun snacks that you can only get at the event (deep-fried Oreos, anyone?) or watching shows and performances can round out the day nicely.
In search of a unique Date Night for married couples?
Sometimes you just need to shake things up and get out of a rut with your date nights. Here are some fun ideas and unusual date night options that you can try when you need a change of pace.
1. Paint night / pottery night
Several of our friends have done these as date nights and really enjoy them. Many tasting rooms or breweries host an art night, so you can "wine and dine".
2. Visit a local brewery or factory
Touring and sampling new brews or foods together is a lot of fun, and maybe you'll discover a new favorite! (Here's a list of Salem Oregon breweries to get you started if you're local)
3. Kayaking, canoeing, snorkeling, SCUBA diving, or other water sports
4. Skiing, snowshoeing, other winter sports
5. Paintball, archery, firing range, laser tag together
6. Go watch a glass blowing or blacksmith shop at work
This is a favorite option for us whenever we find a new shop.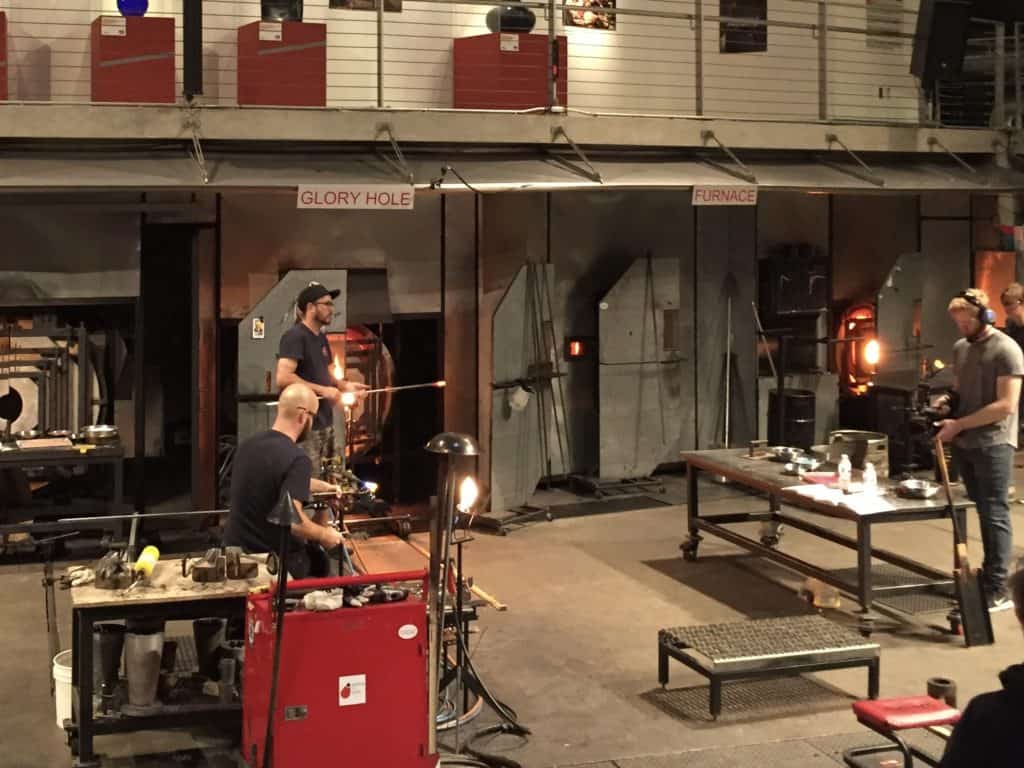 7. Try flying a kite
Even if you have no luck getting a kite into the air, it will provide some good laughs! You can also check out a kite festival.
8. Race Go-Karts together
9. Mini golf, or a driving range, or disc golf
Disc golf is becoming more popular and available in many local parks. It's a different way of exploring together.
10. Go do a rage room together
Modern life is stressful, and getting that stress out in a healthy way can really help you both connect. Don't knock it until you try it!
11. Go to a Comic-Con, a renaissance faire, or try LARPing (live action role playing)
Obviously this is not for everyone, but dressing up and hanging out with other fandom people or enthusiasts can be a lot of fun. Sometimes game enthusiasts (for example Pokemon Go!) also meet-up locally. If you're both into a specific game, see if there are local meetups.
12. Try a ropes course, zip-lining, or rock climbing
An adrenaline rush can boost your mood in other ways too. 😊
13. Go to the rodeo, or a drag race, or Monster Truck rally
Try something new together— even if you decide you hate it, you can laugh about it together later!
14. Attend a local cultural festival such as Chinese New Year, Day of the Dead, Highland games, etc.
15. Try indoor skydiving, or real skydiving, or bungee jumping
This is a big "NO THANKS" for me personally, but I know lots of friends who have done this and enjoyed it.
Seasonal date ideas for married couples
Seasonal festivities can even become a tradition that just the two of you have each year. Here's a few fun date ideas that work well at specific times of the year.
Hot drinks and warm snuggles are almost a guarantee! We often drive around the neighborhood admiring the free displays, but if you live near a place that has a special Christmas Market or event, they're usually worth it!
2. Visit a flower farm in bloom
Beautiful colors and fresh flowers make for great photo ops together too.
3. Visit a U-pick orchard or farm stand
You can just enjoy the fresh produce, or take some home and make a new recipe or two together.
4. Go see a fireworks show (New Year or Independence Day)
5. Drive around to look at the fall foliage
6. Visit a pumpkin patch and try the corn maze together
Some of the corn mazes are so complex, you may find it takes you all day! If you bring home pumpkins, carving them together can be another date activity.
7. Do a turkey trot or small marathon
If you enjoy this kind of activity, exercising together and training will give you another chance to connect.
8. Try a Haunted House, or go to a Murder Mystery dinner
I'm personally not a fan of haunted houses, but lots of couples enjoy being (safely) scared. I do love solving mysteries though, and working together to solve a mystery is a lot of fun, even if you don't guess the murderer.
9. Watch a local parade
It's hard not to get caught up in the excitement of others around you during a parade. Many small towns have fun parades for different occasions, so check what's available near you.
Now it's your turn!
What other ideas would you add to the list? Have you tried date nights at home? I'd love to hear your experiences!
© Copyright 2022 Jennifer D. Warren. First published October 11, 2021. Expanded and updated: October 18, 2022.