Confession time: when I think about visiting St. Louis, Missouri, my first thought isn't the Gateway Arch, or the Cardinals team, or even the Mississippi River. No, the thing I associate with St. Louis above all else is the decadent frozen custard concretes at Ted Drewes.
This post contains affiliate links. As an Amazon Associate I earn from qualifying purchases made from the links on this site, at no extra cost to you. Thanks for supporting our family business!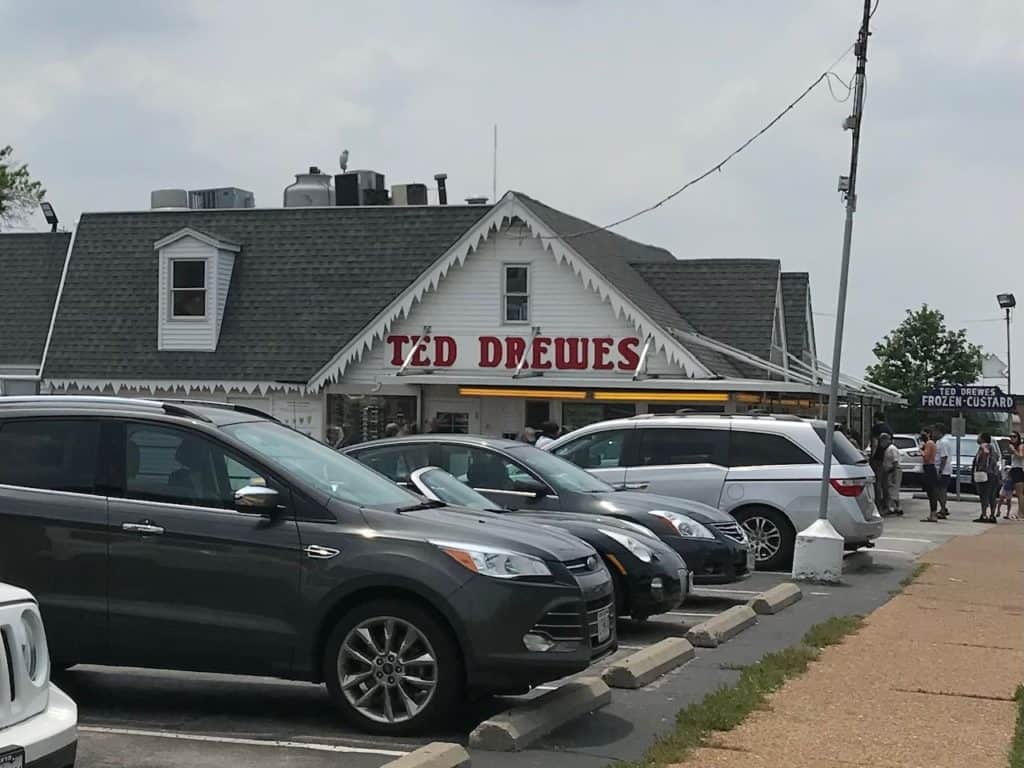 Table of Contents
Maybe it's because the first native St. Louisan I met talked about Ted Drewes with a tone that was nearly reverent. Ice cream and all its variations has always been a big deal for me, and there are few ice cream places that can top Ted Drewes!
(This is a non-sponsored review, and Ted Drewes Frozen Custard was not notified that we would be reviewing their restaurant. As always, all opinions are our own.)
St. Louis Tradition
We arrived in St. Louis after a 4-hour drive from our AirBnb back in Kansas City, MO. Our intention was to skip lunch to save room for frozen custard — which proved to be an excellent plan.
As we pulled up to the Ted Drewes' parking lot, I could see my older kids' faces registering suspicion. Ted Drewes is decidedly unimpressive as a world famous dessert place! The seriously retro paint job and exterior decor makes the uninitiated person wonder whether this frozen custard is "all that".
The parking lot was pretty full, but we squeezed ourselves in and piled out of the van. We all took our time staring at the menu to decide what to order. If you're only coming here once a decade, better make sure you get the one you want most! 😂
We all ordered different flavors of "concretes." Long before Dairy Queen had their Blizzards, Ted Drewes has been serving "concretes" — a frozen confection so thick that they hand it to you upside down so you can see it's not falling out! This is the signature treat at Ted Drewes.
Ted Drewes' Amazing Frozen Custard
Brian ordered some kind of peanut butter flavor, and I ordered the most chocolate flavor possible. Ted Drewes changes their menu seasonally, so some items are not always available. The kids ordered mint, cheesecake, caramel and some other varieties. Overall, we had a good sampling.
Wow. So good. I am a huge ice cream aficionado, but I struggled to finish my standard sized concrete! I think I finally ended up handing it off to one of the kids, who had (sensibly) ordered a smaller size.
The custard is much richer than standard ice cream, so keep that in mind when ordering. In the summer, it melts pretty fast, so that's another reason to keep it small.
Souvenirs and Merch
There was no seating available, except for a single bench outside the gift shop. The gift shop was on the other side of the parking lot, so we sat the boys on the bench.
The gift shop has so many fun and creative items for sale (pretty sure I even saw a Ted Drewes Monopoly). But my favorite was the magnet my daughter brought home.
It took us a little while to figure out that it wasn't a mistake, the concrete is upside down on purpose!
Thank goodness we bring baby wipes everywhere! The boys needed some serious cleanup before we let them back into the van. While I cleaned the kids, "Burro" added our newest sticker to the van.
Off we went to see the Gateway Arch and ride the riverboat! Ted Drewes was, and is, the perfect complement to any St. Louis adventure.
Have you tried a Ted Drewes concrete? Tell us your favorite flavor in the comments!
(This post is one of a series about our family road trip from Oregon to Georgia and back in summer 2021. To start at the beginning, check out our Ready, Set…Reset post.)
© Copyright 2022 Jennifer D. Warren. All rights reserved.