Badlands National Park is a fantastic place to see North America's wildlife. When we visited in summer 2021, we saw bison, bighorn sheep, eagles, prairie dogs and many other amazing animals at close range.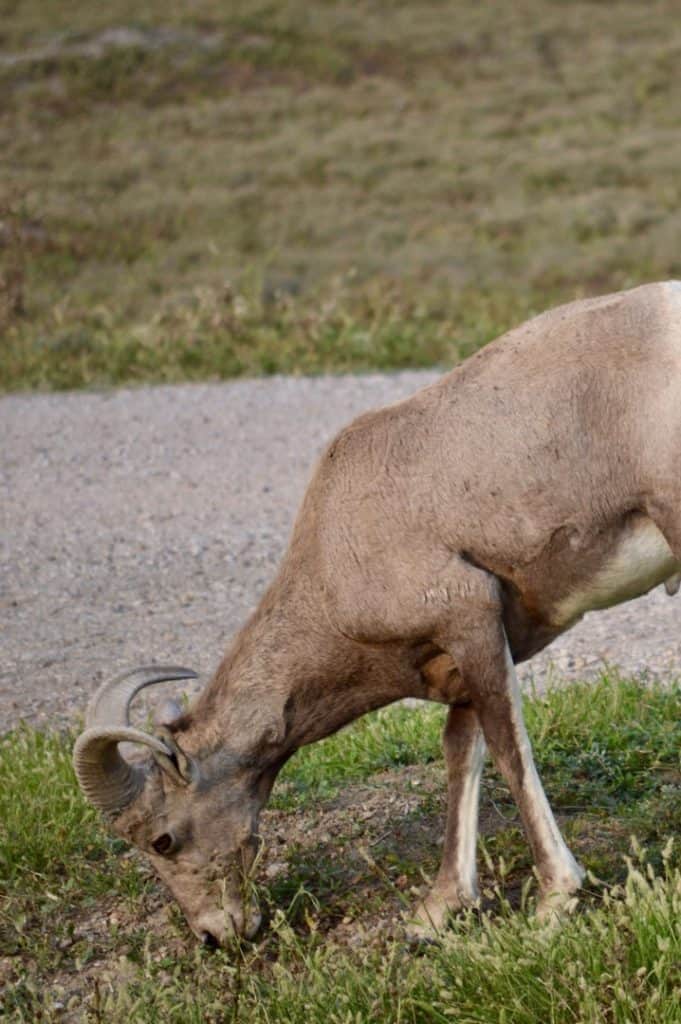 Table of Contents
This post contains affiliate links. As an Amazon Associate I earn from qualifying purchases made from the links on this site, at no extra cost to you. Thanks for supporting our family business!
The sheer abundance and frequency of seeing the Badlands National Park animals was the most unforgettable thing about our 4 week cross-country road trip.
South Dakota is a wildlife-lover's paradise. With multiple National Park sites and state parks to choose from, you're almost guaranteed to see wildlife if you have a few days in the area.
Here are the best places and tips for seeing wildlife in and near Badlands National Park.
Types of Wildlife to see in Badlands
Badlands National Park of South Dakota is home to bison, bighorn sheep, pronghorn, mule deer, whitetail deer, elk, coyote, swift fox, black-footed ferrets, mountain goats, and many other animals.
If you're lucky, you may even see a mountain lion or golden eagles! The best times of day to see wildlife are in the early morning or late in the evening.
Where to see Badlands National Park animals
We saw large numbers of wildlife in Badlands National Park while driving the scenic road through the park (Badlands Loop Road). This 31 mile long road takes you through the heart of the park and offers many great opportunities for wildlife watching.
The Badlands Ben Reifel Visitor Center is a great place to start your wildlife viewing adventure. Park rangers can tell you which trails and overlooks are most likely to yield sightings of different animal species. They can also advise you on the best time of day to see certain animals and appropriate distances for safe wildlife viewing.
When viewing wildlife, it's important to maintain a safe distance. The general rule is to stay at least 100 yards (91 m) away from bison, and 25 yards (23 m) away from all other wild animals.
Large mammals
American Bison are the most commonly seen large mammal in Badlands National Park. An excellent place to see bison is from the Sage Creek Rim Road. This road gives a good view of the Badlands Wilderness area where the bison like to graze.
You can see bison in other areas too – we found one right at the park gates! Inching past him, even while "safe" in our large van, was a tense and humbling experience. Bison are unpredictable, so it's wise to give them a wide berth.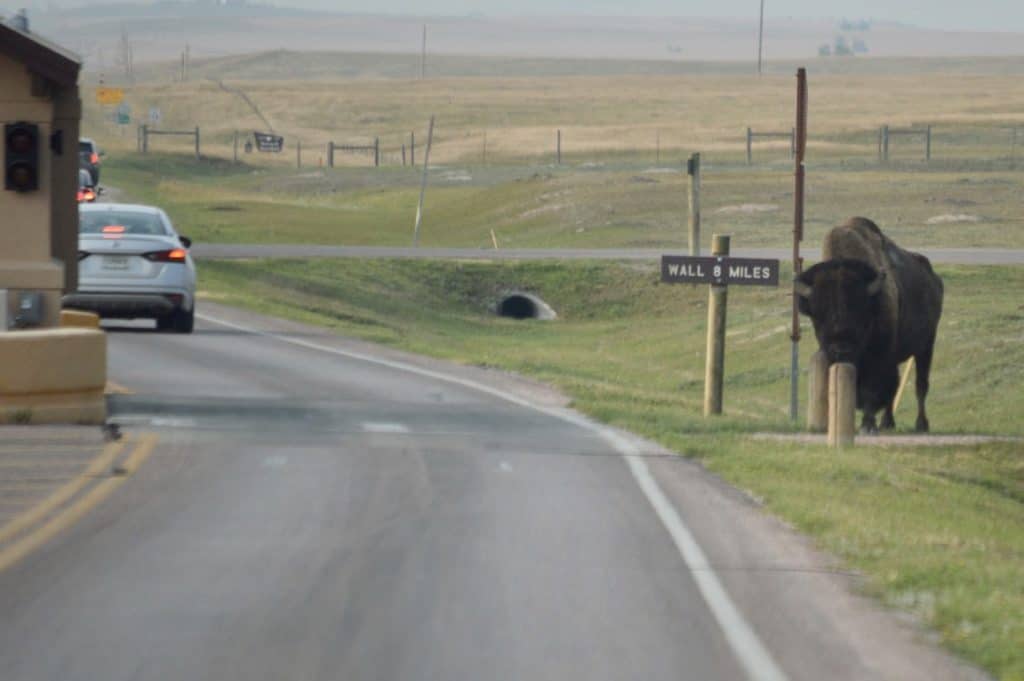 The bison population in the park is managed through a conservation grazing program. This program helps to maintain the grassland ecosystem and prevent the growth of unwanted plants.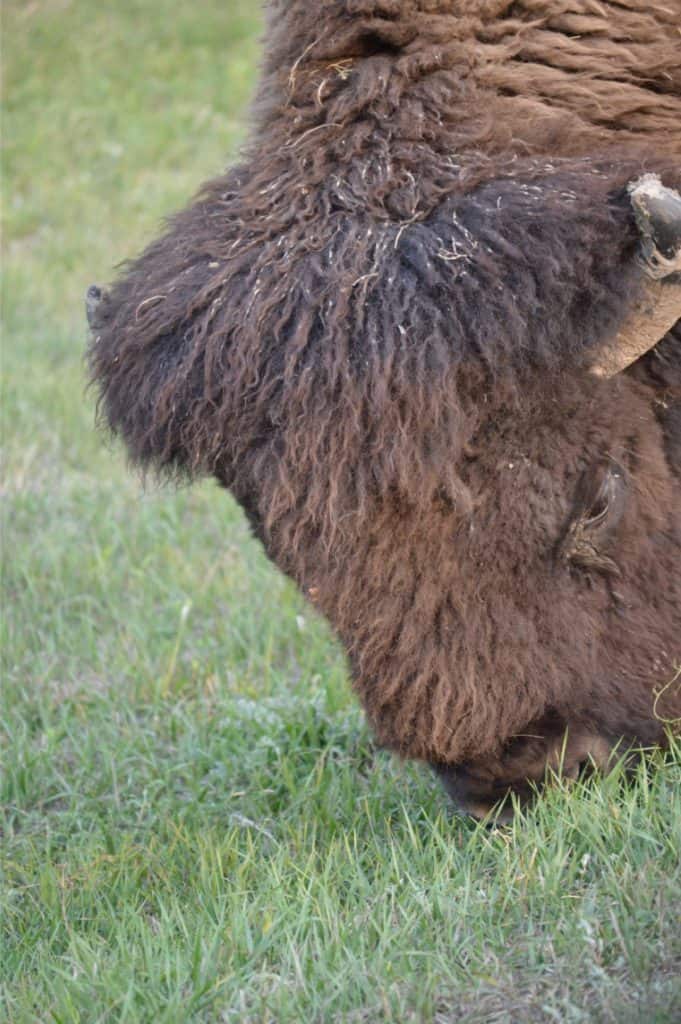 Bighorn sheep are another popular animal to see in Badlands National Park. The Pinnacles Overlook is especially good for spotting bighorn sheep, which are often seen grazing along the rocky outcrops and rock formations.
We saw bighorn sheep from a distance at the Big Badlands Overlook. Bring decent binoculars with you for the best chance of seeing common animals in the Badlands.
The Castle Trail and Notch Trail are also great options for seeing a variety of Badlands animals up close.
Prairie Dog Towns
One of the most unique aspects of Badlands National Park is the prairie dog towns. These lively little creatures are fun to watch and their burrows provide homes for many other animals. Our kids delighted in how often we saw prairie dogs in South Dakota!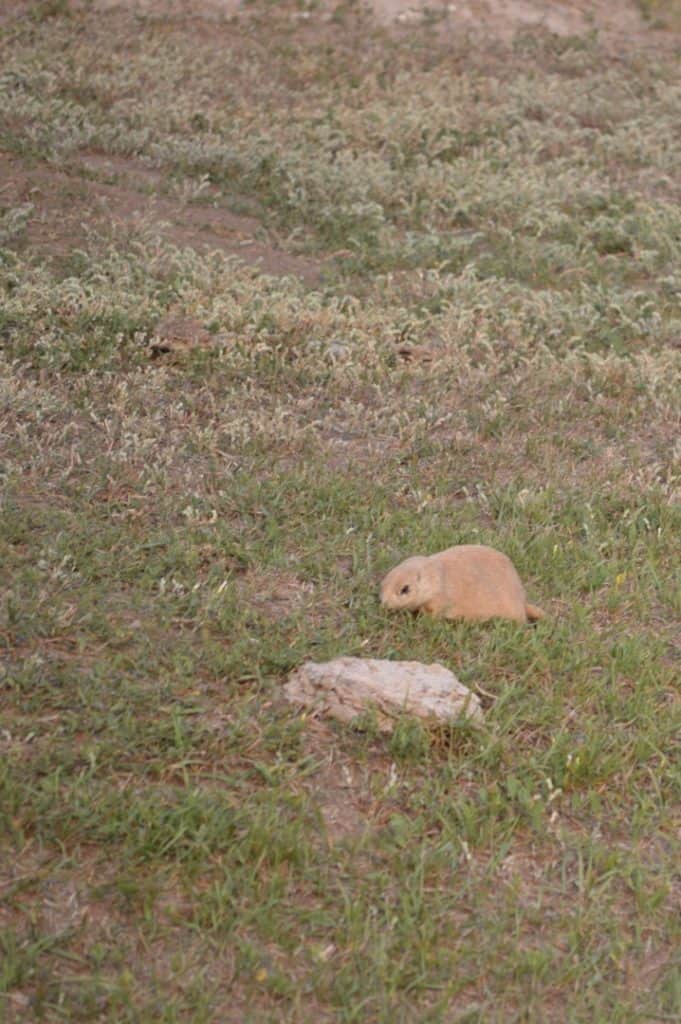 The best place to see prairie dogs is at the Conata Basin Prairie Dog Town. This area is also good for seeing mule deer, white tailed deer, pronghorn and bison.
The Conata Basin Prairie Dog Town is located on the south side of the park, near the town of Interior. To get there, take Highway 240 east from Wall for about 15 miles (24 km).
Roberts Prairie Dog Town is another great place to see these cute little animals. Roberts Prairie Dog Town is located on the north side of the park, near the town of Wall, South Dakota.
To get to Roberts Prairie Dog Town, take Highway 240 west from Wall for about 12 miles (19 km).
Rattlesnakes
Badlands National Park is home to several species of rattlesnakes, including prairie rattlesnakes and western diamondback rattlesnakes. Keep your eyes open for snakes while hiking any of the trails. Remind your children to stay on the trails for their own safety.
While these snakes are not aggressive, they can be dangerous if provoked. It's important to maintain a safe distance from all snakes, and to never attempt to handle them.
Birds at Badlands National Park
Badlands National Park is home to over 200 species of birds. The best place to see birds is in the open prairie, away from the trees and shrubs that line the roads.
Some of the best birding trails in Badlands National Park include the Castle Trail, Medicine Root Loop Trail and Window Trail.
When to visit Badlands National Park
The best time to see most Badlands National Park animals is during the summer months. Most animals are active and can be seen out in the open. Spring and fall are also good times to visit (with fewer crowds), although you may have to contend with inclement weather.
Badlands National Park is open year-round, 24 hours a day. However, some trails and roads may be closed due to weather conditions. Be sure to check the park's website for updates before your visit.
Custer State Park (near Rapid City, South Dakota)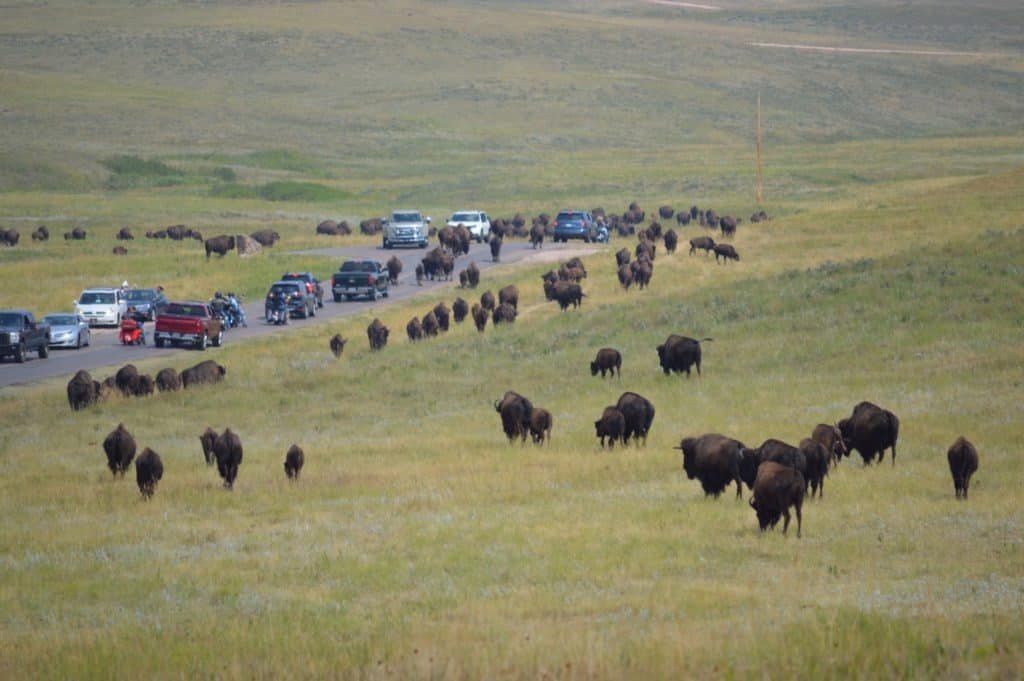 If you're hoping to see more of South Dakota's larger residents, such as bison or mountain lions, your best bet is to head over to Custer State Park. This massive state park is home to a large population of bison, as well as many other North American wildlife species.
We spent over two hours following a huge herd of bison as they crossed the road and moved along. The bulls were enormous, taller than most vehicles and stomping and snorting as they moved past.
Our favorites were the newborn calves. They are cinnamon colored for the first few days after birth, but then their fur darkens.
Custer State Park highlights
Be sure to stop by the Custer State Park Visitor Center for tips on where to see wildlife and to learn more about the park's history and ecology.
The video presentation shows different parts of the park, as well as giving an idea of what the September Bison Round-up is like. We plan to return for the Round-up one day!
Our kids loved the exhibits at the Information Center, especially the climbing wall and the virtual bison "safe distance" demonstration. We were also able to talk with a docent about where the herds were most recently seen, and where we had the best chance of seeing other animals.
Free range burros
Although they are not technically "wildlife", the free range burros that live in Custer State Park are as much fun as the other animals!
We found out that you can feed them carrots, so we brought a bag.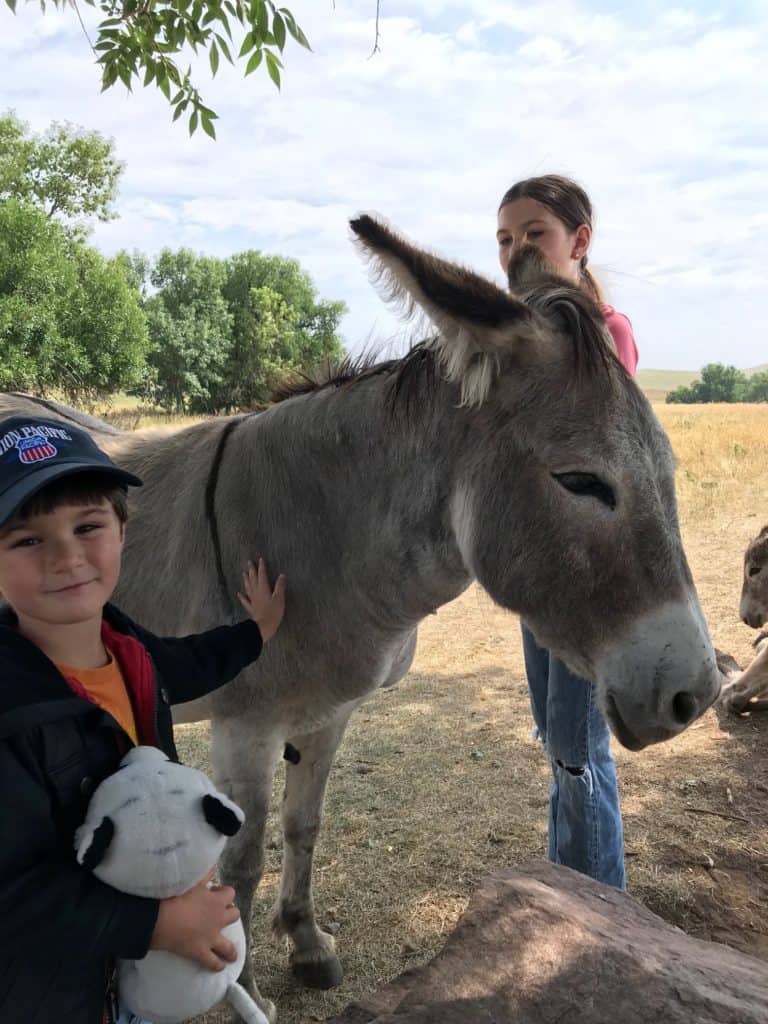 We should have brought more! The burros tried to climb into our vehicle to get more carrots from us, and devoured them all in minutes.
Our kids loved petting their soft fur, and several foals were resting in the shade. Great photo ops were everywhere!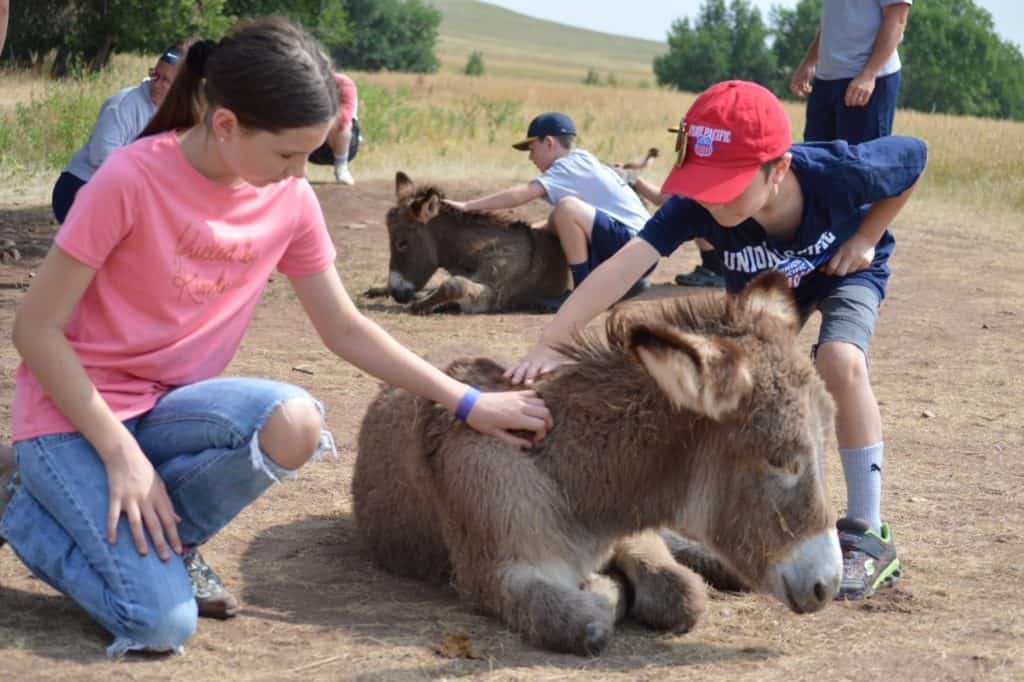 Other Nearby Wildlife Viewing Areas
Another nearby area in the National Park Service that can provide a good chance of seeing wildlife is Wind Cave National Park. The grass prairie above the Wind Cave is home to bison, pronghorn antelope and many other species. We heard this park recommended by several people for its wildlife viewing opportunities.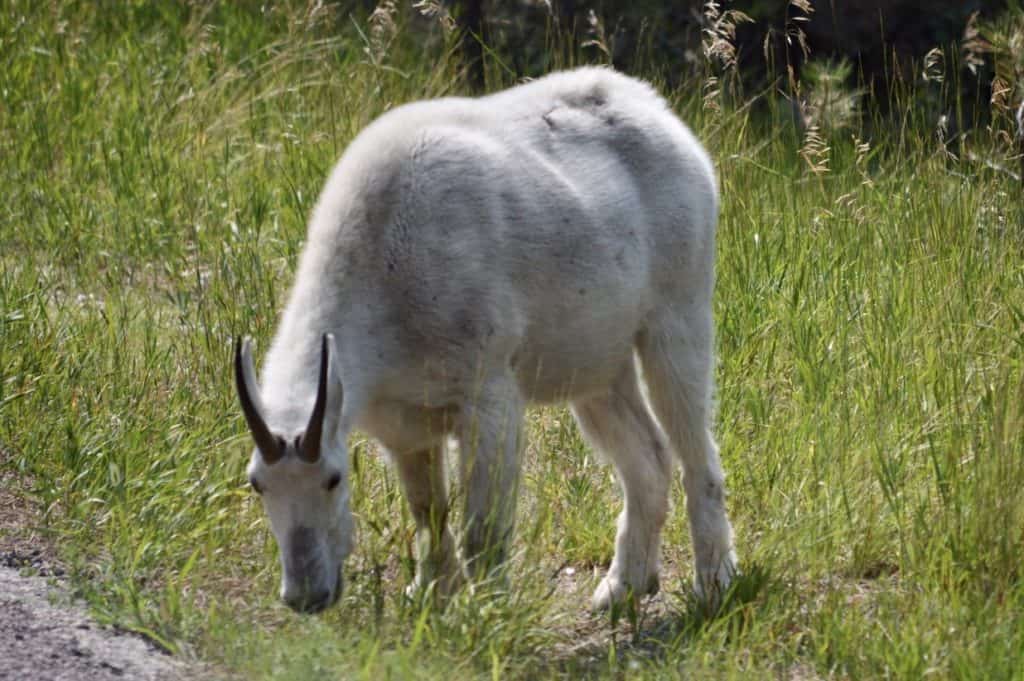 Mountain goats are most frequently seen in the nearby Black Hills area. We saw several mountain goats on the Iron Mountain Road near Mount Rushmore, mere feet from the highway!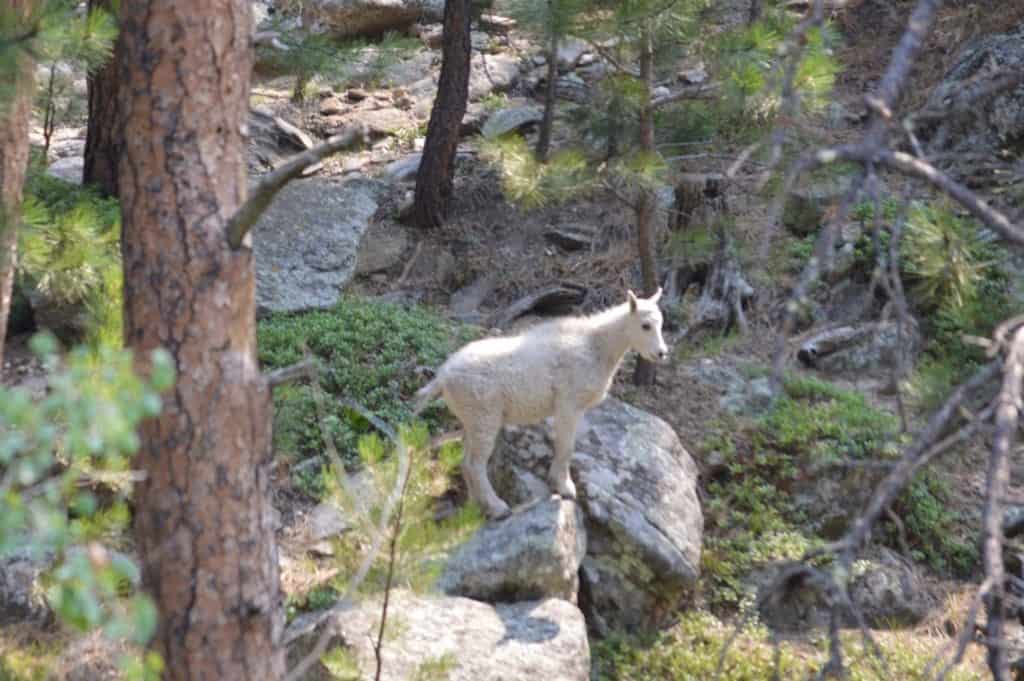 Final thoughts
Although wildlife are abundant in the Badlands and Black Hills areas, they are still wild and roam freely. If seeing Badlands National Park animals is a high priority for your visit, plan to spend a few days in the area. Visiting multiple parks and sites will provide the best opportunities to see wildlife.
Happy Travels!
Frequently Asked Questions
Are there bears in Badlands National Park?
There are no bears or grizzly bears in Badlands National Park. You may spot bears in the nearby Black Hills area of South Dakota.
Are there wolves in Badlands National Park?
There are no wolves in Badlands National Park. The Black Hills area of South Dakota has occasionally seen visiting wolves, but there are no resident wolves.
Are there mountain lions in Badlands National Park?
On occasion, mountain lions (also known as pumas or cougars) have been spotted inside Badlands National Park. However they are uncommon.
© Copyright Jennifer D. Warren 2022. Updated Friday August 4, 2023.