Today I'm sharing an app that has saved my sanity as a mom of 3 kids with ADHD! Joon is an incredible new app to help kids build executive functioning and life skills. We love it! It's super fun for kids and so helpful for me as a tool to help manage my busy household. Here's our Joon app review.
Download Joon here: https://download.joonapp.io/jwarren
Table of Contents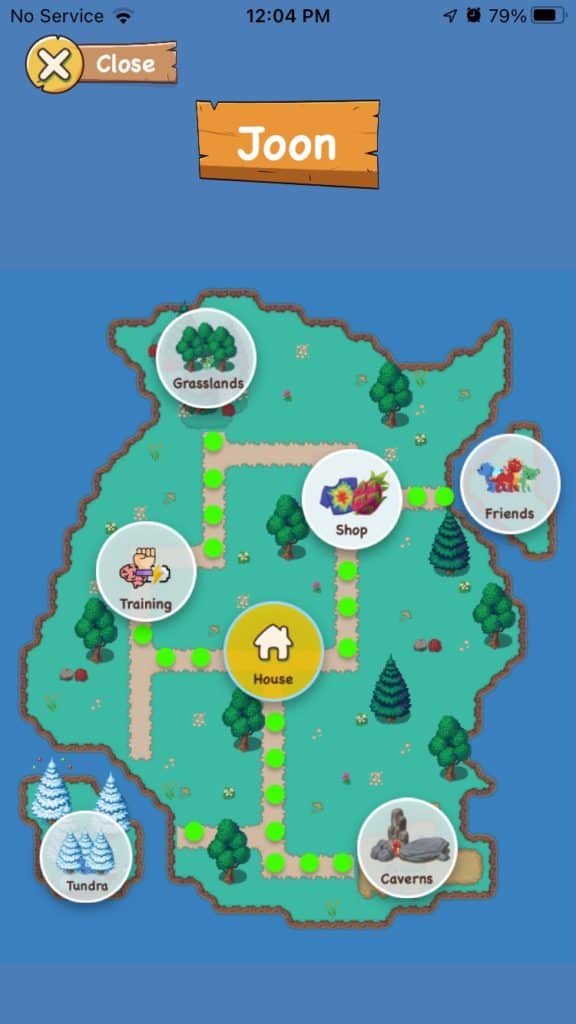 First published: May 9, 2022. Updated (with new screenshots and current info): January 8, 2023.
This post contains affiliate links. As an Amazon Associate I earn from qualifying purchases made from the links on this site, at no extra cost to you. Thanks for supporting our family business!
Product and app links in the article are affiliate links, and we may make a small commission from any purchases made using these links, at no extra cost to you. We only share products we love! We did not receive any compensation in exchange for a positive review, and as always, all opinions are our own.
What is the Joon app?
Joon is a game-like program that gives your child a pet to take care of (called a Doter). The basic concept is that as your child completes chores or assignments, he earns coins that he can exchange for items to care for his Doter.
As your child earns more coins, he can explore further into the land of Joon with his Doter.
Gamification
Joon uses the power of gamification to help kids with ADHD complete tasks that would otherwise be super hard to finish. ADHD brains get bored much more easily than neurotypical brains, so it is nearly impossible for ADHDers to finish boring tasks.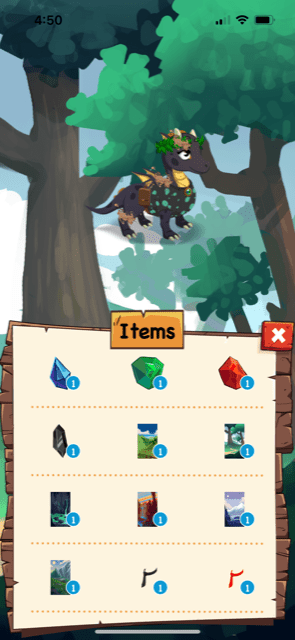 Gamification is the concept of using game-playing activities and rewards to motivate yourself to finish tasks (like Mary Poppins helping the kids clean their room).
For more on gamification and how it helps ADHDers, check out these videos on the "How to ADHD" channel.
"How to Turn your Life into a Video Game"
"Why you can focus on Video Games (And How to Hack it)"
I started using Joon about a month ago with my kids on the free trial version. Within a few hours of setting it up, I knew that this app would be a game-changer for our kids and a lifesaver for me.
My kids were rushing to get their chores and homeschool work done, and I didn't even have to remind them! *jaw drops*
I've been using Joon with four of my six kids: two of the boys, and two of the girls. Two of our kids have ADHD, two do not. After a month, I can confidently say that Joon is fantastic and worth the investment.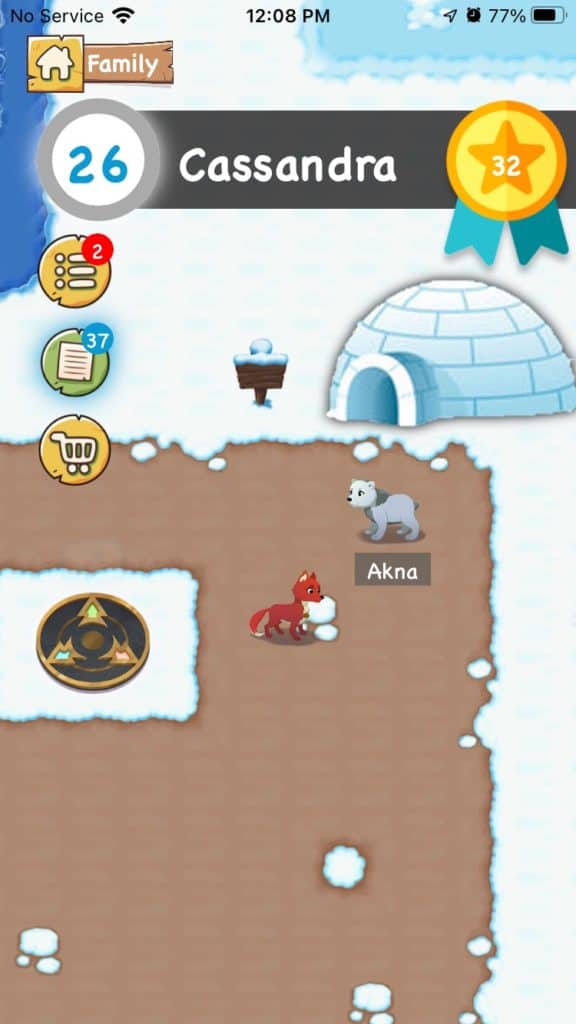 Here are some of our favorite features, followed by a list of potential issues to consider when deciding if you want to use the Joon app with your kids.
Download Joon here: https://download.joonapp.io/jwarren
Fantastic features
1. Track Multiple Children
I'm currently using this app to manage the chores, homeschool, and even life skills for my four middle children, ages 7, 9, 11, and 13. Each kid has different chores and different school assignments, and the app allows me to track them seamlessly.
2. In-app task reminders for child
 Before we got this app, I was constantly reminding my kids to check their chore charts. I also had to hunt down kids to see if the chore got done. With 6 kids to manage, that took a huge amount of time, energy, and concentration! My relationships with my kids were strained by the constant reminders and my building frustration.
Now that we use Joon, I only have to remind the kids to check Joon throughout the day. My non-ADHD kids generally don't need any reminders, because the app reminds them on their devices. I have so much more time, and I'm less frustrated when I do have to remind them occasionally.
3. Adjust difficulty and rewards based on individual child's needs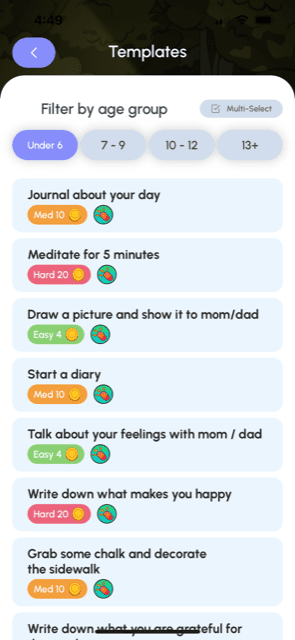 Tasks are assigned different point values based on their difficulty for executive function. So for my youngest kids, remembering to brush their teeth and wash their hands before meals might be a medium-level task. For my older kids, that's easy, but a simple reminder is helpful.
I can also adjust the number of points based on what each child needs, and what areas they struggle with the most.
4. Gamification makes kids excited to complete tasks
My kids love to get on Joon and see how many coins they have earned, or what new badges they achieved. They get on several times in the day, and I set it up so that they can't explore and play until they have completed a certain number of their daily tasks, which motivates them to get their work done early!
5. Joon grows with the child
You can always adjust the number of points a task is worth. As your child gets better or more consistent at completing certain tasks, you can make those tasks worth fewer points, or even eliminate them to reflect their growing skills.
Joon lets you add in new tasks that your child is ready to tackle, which also reduces boredom with the game.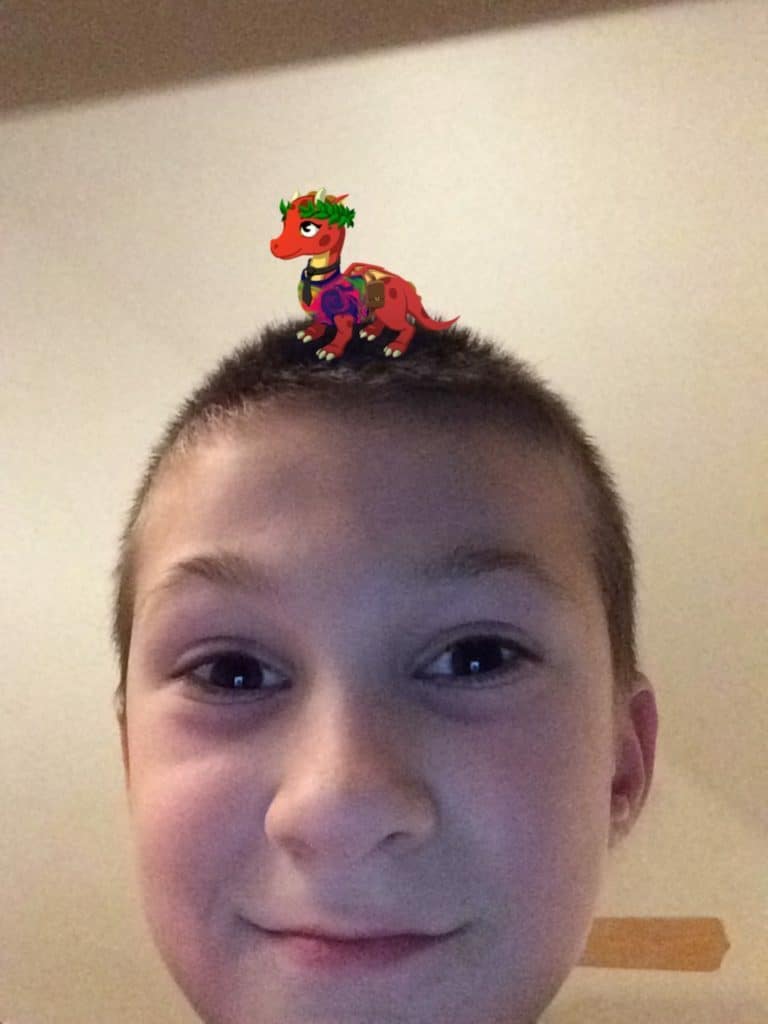 6. Simple task set-up
If you're not sure where to begin, Joon has lists of prepared tasks to start based on your child's age. The set up was easy with suggested tasks, and I was even able to assign the same task (e.g. shower) to several kids in just a couple taps. That's super handy for parents with multiple kids!
7. Task focus areas for well-rounded development
Tasks are listed in different focus areas to help your child's relationships, household skills, self-control, and other things. Kids with ADHD often struggle with social skills and emotional dysregulation. Joon offers suggested tasks to help your child grow in these areas.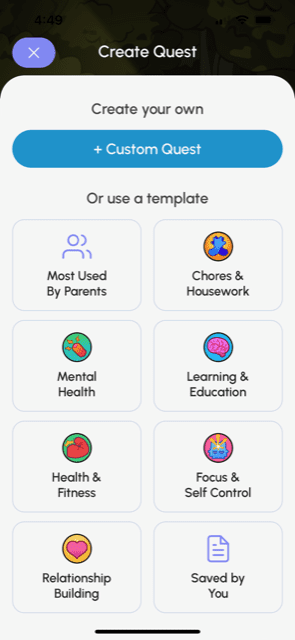 Joon also has an overview function so that you can see how each child is doing in different areas of development and suggests areas to improve on.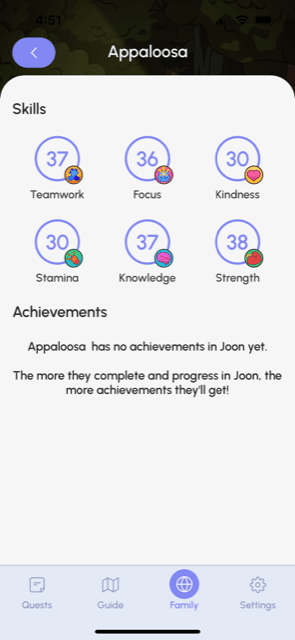 8. Messaging between child and parent
 I can leave each child a short message to encourage them as they go about their day, and can change the message as often as I want to.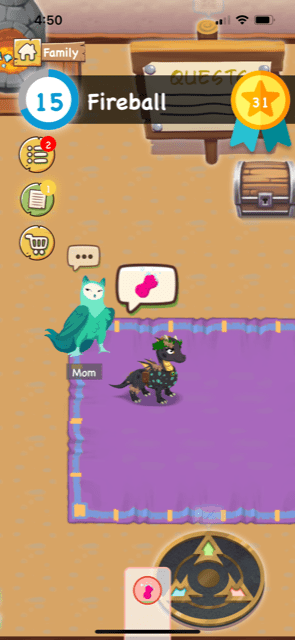 Joon also has a feature where if you think your child needs to try again, you can leave them a note on the specific task. Your child can also send you a photo or note to verify completing certain tasks. It saves me time as a parent– I just check the photos my kids submit each day.
9. Joon parent reminders
Joon reminds you to check items off. If I forget to verify my kids' completed tasks (which is how they get their coins), Joon sends me notifications. My kids can even ask Joon to email me a reminder once a day to verify their tasks.
As a busy parent, I need all the help I can get to be consistent with my kids, so this has been super handy for me.
10. Amazing tech support and app developer response (customer service)
I've never seen a tech support team as responsive as the Joon app team is! I've personally interacted with one of the developers/owners several times. The app developers regularly ask users how they can improve the app.
Even in the one month we've been using it, I've seen several updates that were made in direct response to user's requests. These are real people behind the company, and they truly want to help families with ADHD kids.
11. Great Facebook Community
The Facebook community for Joon is one of the best and most responsive groups I've been a part of. The admins watch the group closely and quickly respond to issues. The group is a great resource for families to help and support each other as we work with our ADHD kids.
12. New Feature: Limit Playtime and Task Access
I noticed that on of my ADHD kids would go through her task list and quickly do all the easy tasks, no matter what time of day it was. She would also get overwhelmed with everything on her list when she could see afternoon and evening tasks in the morning.
The app developers have fixed this issue by creating a button that allows your child to only see tasks that are due at the current time of day. This is a huge help for ADHDers facing task paralysis!
You can also limit playtime to only be permitted AFTER certain routine tasks have been completed.
Potential Issues
1. Neurotypical kids boredom
My third daughter, who does not have ADHD, quickly found herself able to achieve top points on most days. Since the game is so new, and the developers are still growing it, she ran out of new areas to explore after a couple of weeks. Even so, she still regularly plays it and gets her tasks done.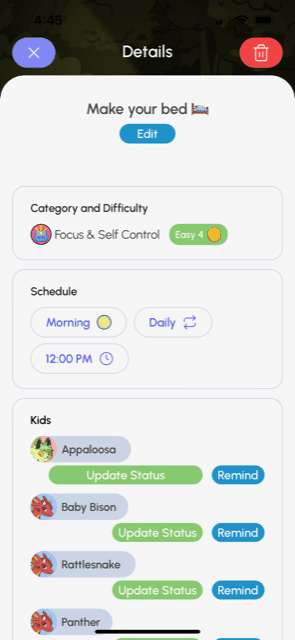 Some kids may get bored with it quickly, but as the game keeps growing and expanding, that should be resolved in the future.
2. New app, frequent updates
The app is new, so additional features are being added regularly. As the developers get feedback from parents and kids who use Joon, they continue to improve the app and fix bugs. There are frequent updates, and sometimes things don't work smoothly immediately. However, I've seen that most issues get resolved quickly, and the app developers have excellent customer service.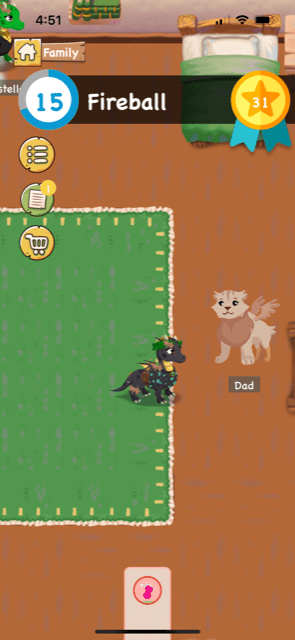 3. Update: Annual subscription ONLY (no monthly subscription option)
I saw several petty complaints in the FB group or online review store about the monthly fee ($15/month) when we first started using it. Joon's annual subscription is now $89.99, which works out to under $8/month. That's far less than most gym memberships, sports fees, classes, or nearly anything else for kids!
Download Joon here: https://download.joonapp.io/jwarren
Most kids with ADHD need multiple interventions to help them develop the needed life skills (counseling, medication, behavioral therapy, etc.). For what this app does, the price seems completely reasonable, especially for families with multiple children!
However, if you are experiencing financial hardship, contact the Joon team. Scholarships are available, and the Joon development team is committed to helping families who need the help. I've never seen this level of communication and generosity from an app development team before.
4. Initial set-up is time-consuming (for a large family)
With 4 kids who homeschool and do chores around the house, it took me a couple of hours to get everyone set up. After initial set-up, however, I only had to tweak it occasionally. Update: they've already improved this by adding a "Multi-Select" button!
5. Adjusting tasks after set-up can be complicated
If you add a task for more than one child, but later decide to change the point value for only one child, you usually have to delete the task and re-create it individually. However, since many people are not managing 4 children, it's probably not a common issue.
6. No fixing mistakes
Once you've checked off a task (verified), it can't be unchecked. You can re-create a single, non-repeating task, to allow the child to do it, but there's no taking back coins after you've approved a task. Most of the time, it's not that big of a deal.
We Love Joon!
When we started using Joon and saw how powerful and helpful it was for our family, we knew we'd struck gold! We are so excited to share this amazing app with other families. Here's our link to download the app and start on the free trial.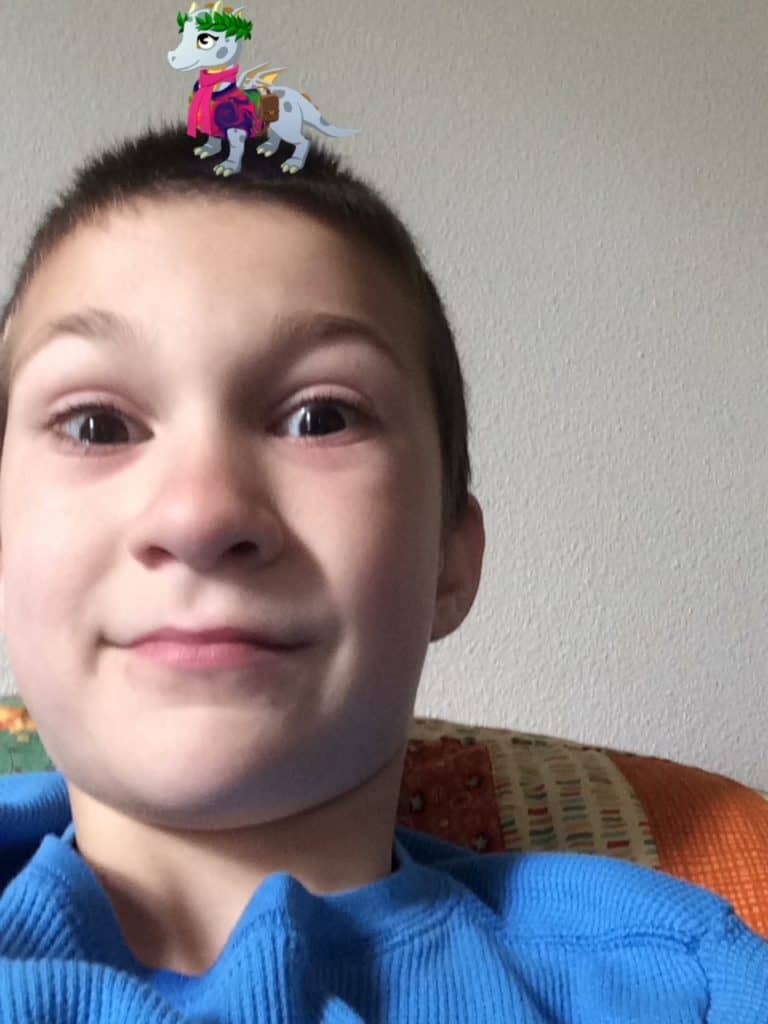 If you have been struggling to help your child learn to stay on task and complete tasks, I'm sure that Joon can be a fantastic resource for you! Whether your kids have ADHD or not, Joon helps kids learn consistency in a fun way. Try it out and see for yourself!
Frequently Asked Questions (FAQs)
Can you use Joon for free?
Joon offers a one week free trial so that you can try out the app with your children your routine. After that, it's a one year subscription for $89.99.
Is Joon available for Android?
Your child can play the game on an Android device or Amazon tablet. However a parent needs to have an iPhone to setup their child's account and manage it. There is a waitlist you can join to be notified when the Android parent version is available.
© Copyright Jennifer D. Warren 2022. Updated: January 8, 2023.