After a long and sobering day at the World War 1 Museum, we were in need of a hot meal and some fun. A quick Google search for nearby barbecue places turned up Slap's BBQ in Kansas City, KS— about 10 minutes away from our current location.
Table of Contents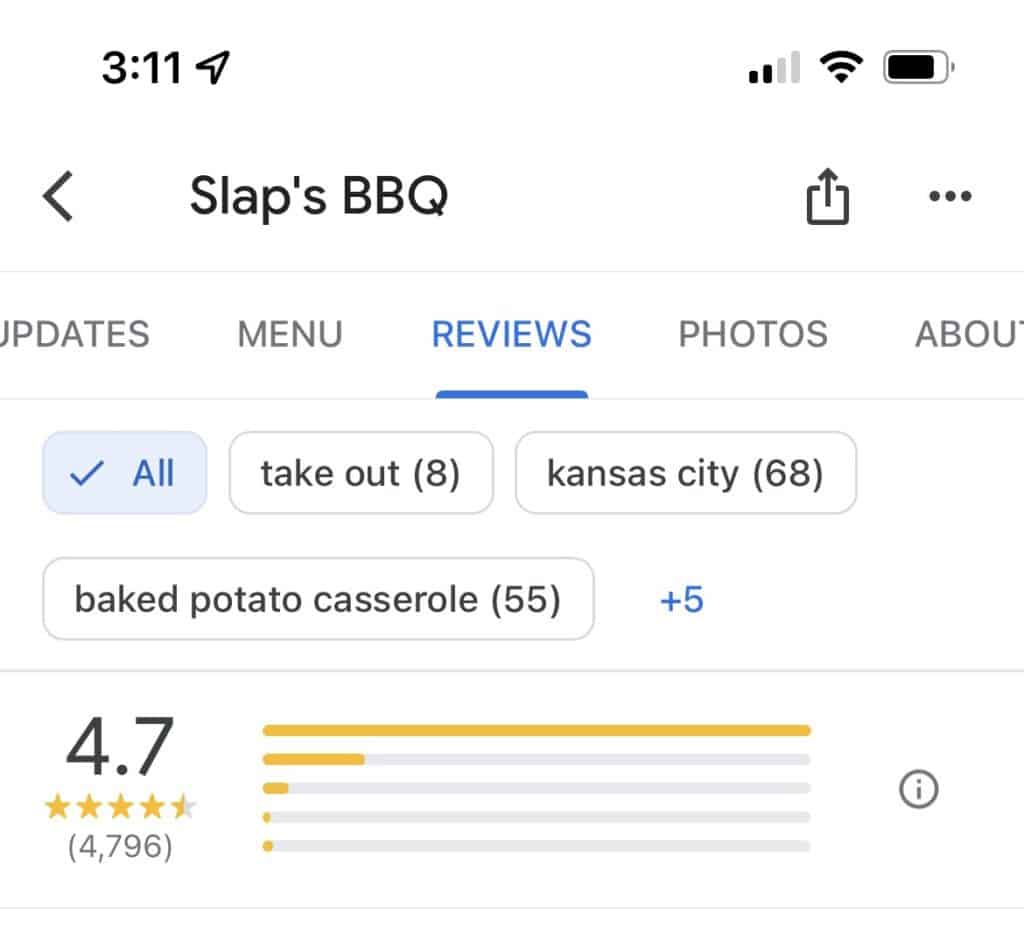 This post contains affiliate links. As an Amazon Associate I earn from qualifying purchases made from the links on this site, at no extra cost to you. Thanks for supporting our family business!
With close to 5,000 reviews averaged at 4.7 out of 5 stars, we were pretty sure it was going to be fantastic!
(This is a non-sponsored review, and Slap's BBQ was not notified that we would be reviewing their restaurant. As always, all opinions are our own.)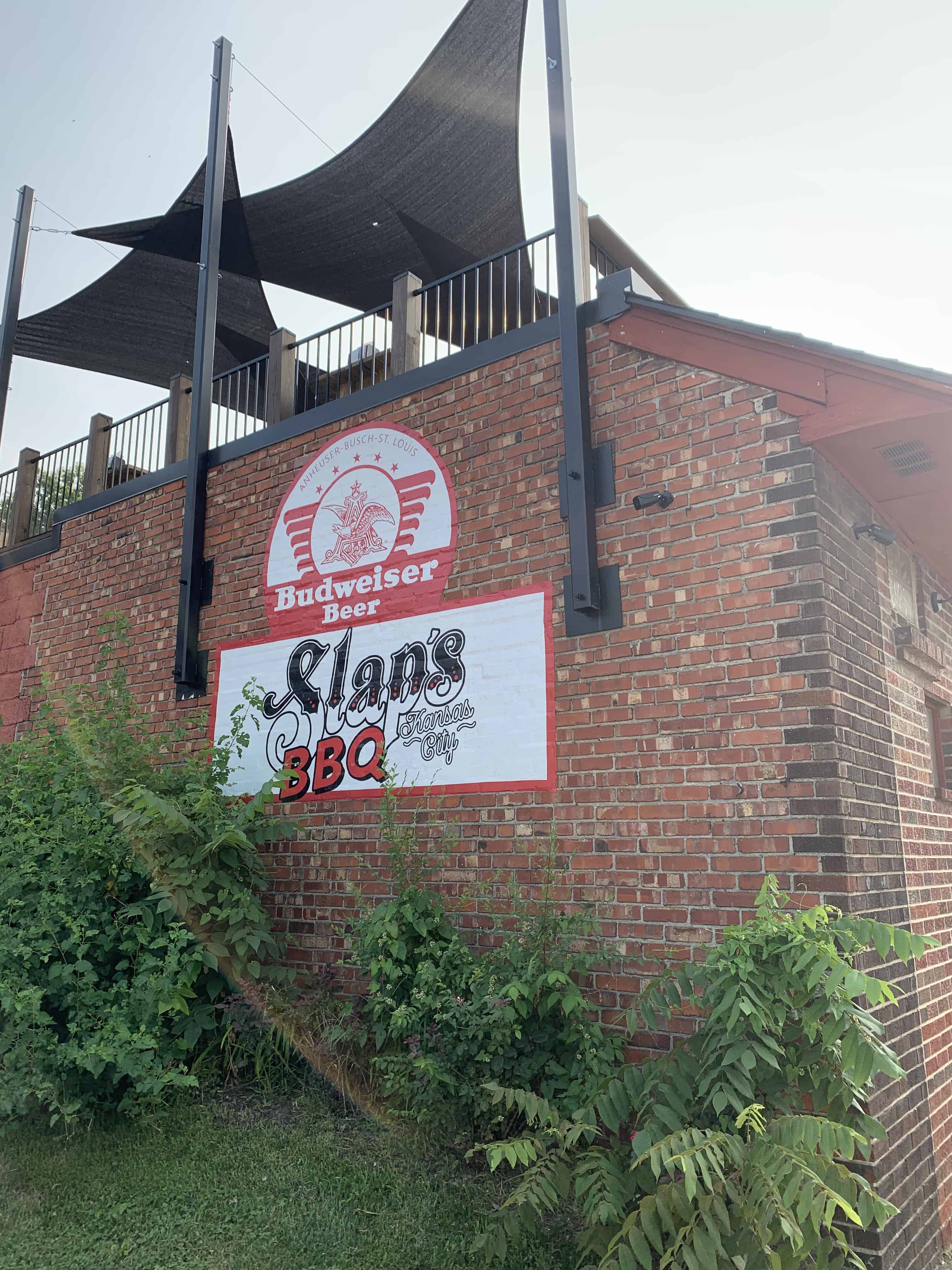 We crossed the state border from Missouri to Kansas and found Slap's BBQ. The outside was unimpressive, a brick building that didn't really catch your eye in downtown Kansas City. We piled out and went up to the counter to order.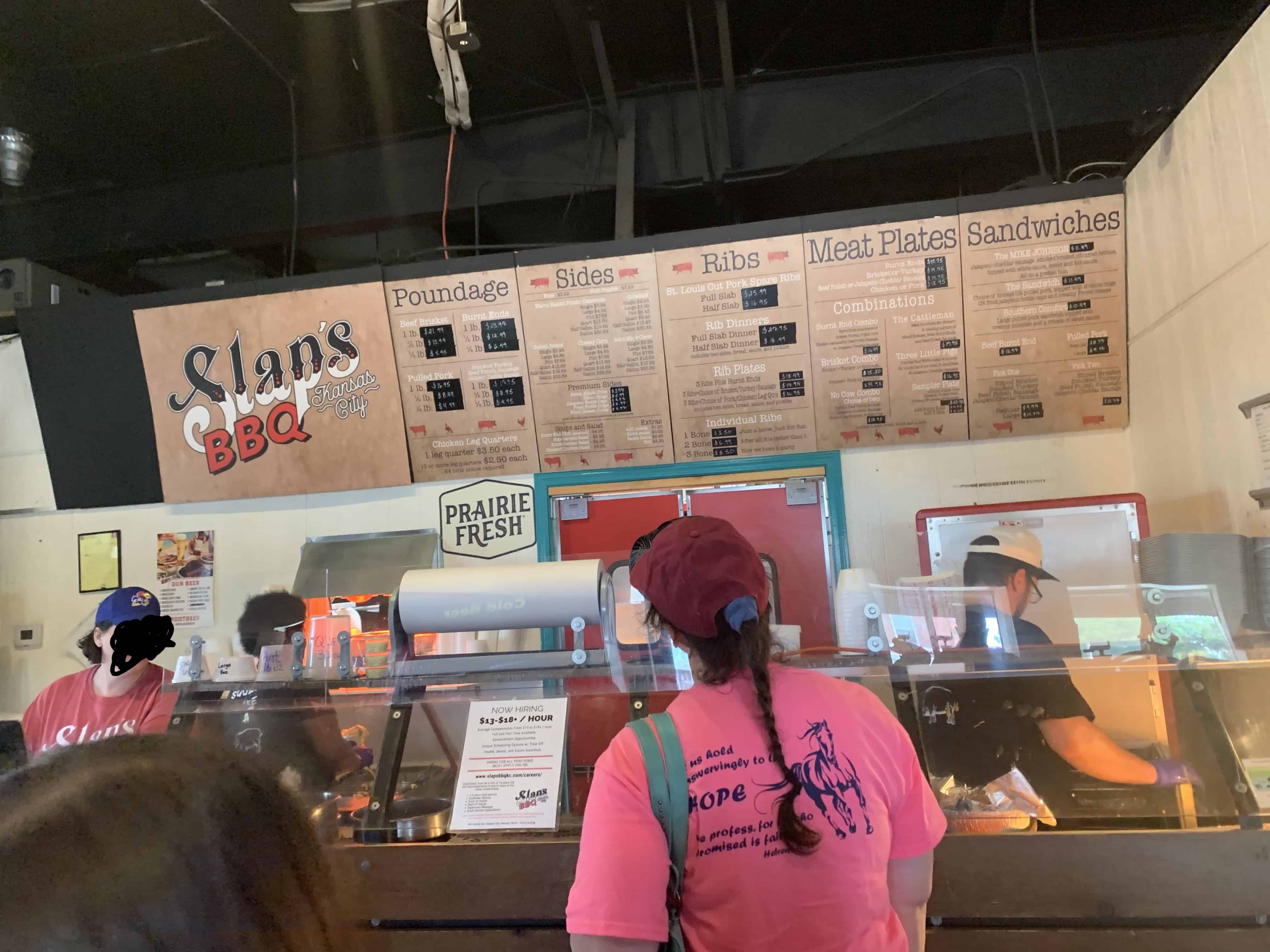 Dinnertime at Slap's BBQ
It is our habit that when we are trying something new, we order lots of different items. That way, we are usually sure to have something for everyone. We ordered three or four meat varieties, and several sides for our family of eight to enjoy.
Our kids don't yet appreciate the deliciousness of barbecue (I know, I don't get it either!). But we knew that the bread and soda would still keep our pickiest eaters happy!
We ordered burnt ends, pulled pork, brisket, and some kind of sausage. There was also baked beans, Mac n' cheese, baked potato casserole, hush puppies, and coleslaw.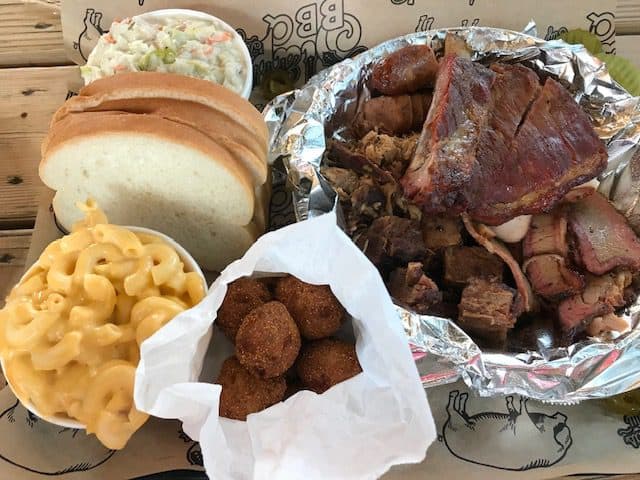 Would you believe me if I told you I could have cried over those baked beans? Oh. My. Goodness. I finally understood why people like baked beans!
Most baked beans I've tried were just there as a change of pace from eating meat. Slap's baked beans are a showstopper— the perfect blend of savory, spice, and sweet. WOW.
The meat was perfectly seasoned and tender. Slap's BBQ sauces were a flavor explosion, and even the sides were addictively good. Let me just say, the reviews did not lie!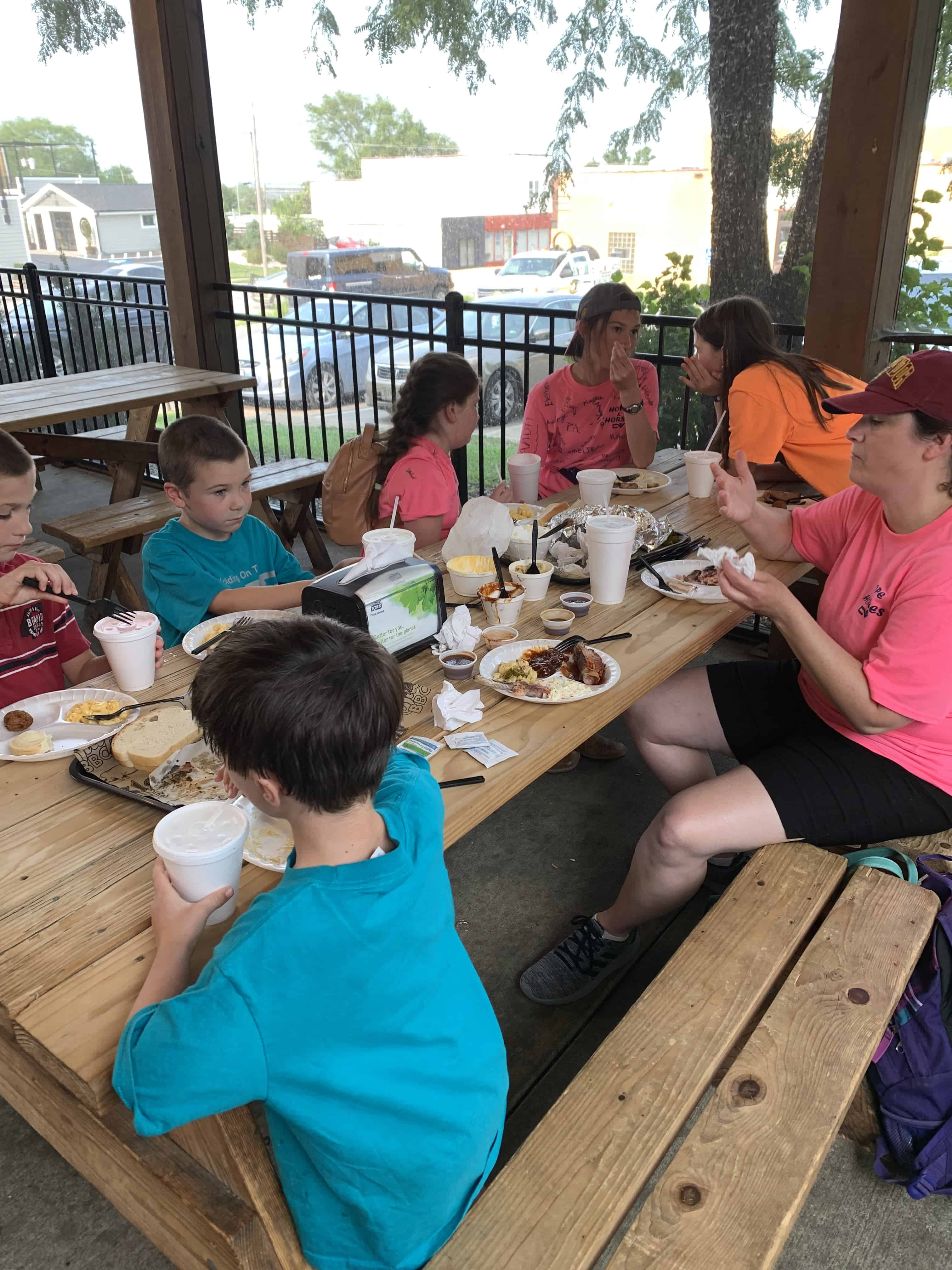 And now, some Penguin Park fun!
Brian and I could have sat there all evening, just finding room to eat it all. But of course, the kids had already had a long day of learning at the Museum, so we got some to-go boxes to enjoy the leftovers later at our AirBnB, and started back towards Missouri.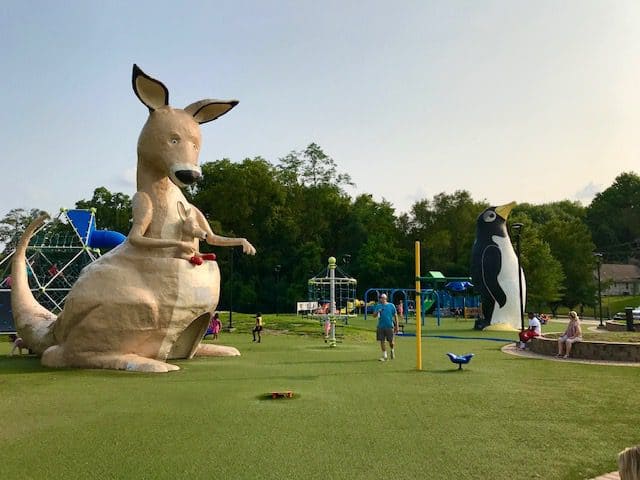 We had passed the Penguin Park on an errand to the grocery store the first night in Kansas City. If you have kids, you know that the sight of a 20-foot-tall Penguin at a playground (along with other oversized animals) has an immediate effect on children.
"Wow, what's that?!"
"Can we stop there please?"
"Mom and Dad, can we come back later?"
After everyone had had a good dinner, it was still light out for a couple more hours (yay, Daylight Savings!). We decided this was a perfect time to stop at Penguin Park.
A Community Landmark
After everyone had had a good dinner, it was still light out for a couple more hours (yay, Daylight Savings!). We decided this was a perfect time to stop at Penguin Park.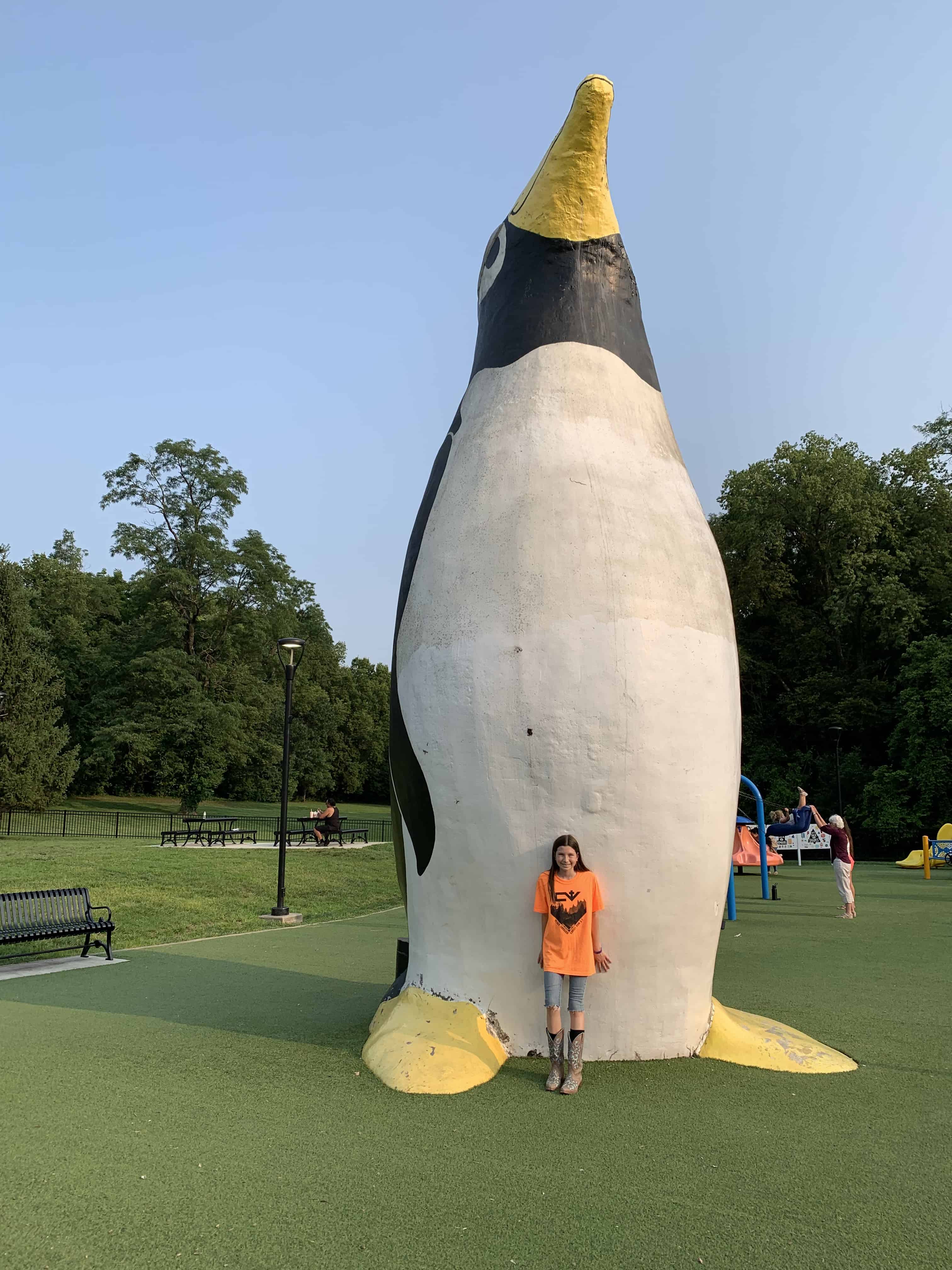 The Penguin Park is the result of committed citizens who took action to preserve a beloved landmark. The Penguin was old and slated for destruction in the 1990s, but local Kansas City folk came together to petition to renovate the Penguin and add several other animal play structures.
The result is this whimsical playground that is fun both to play in and to admire.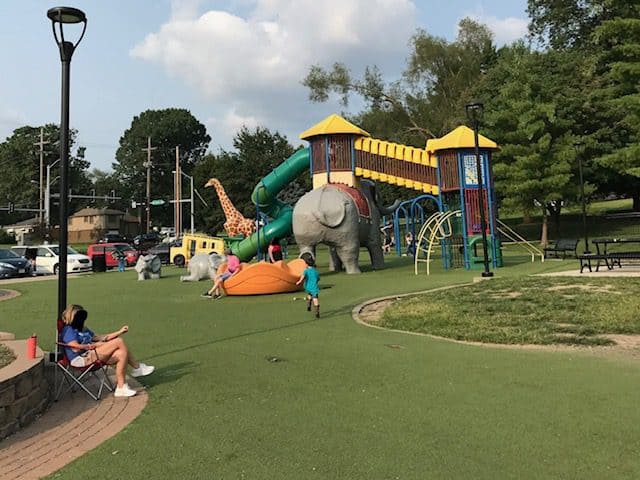 All of our kids, ages 4-15, enjoyed exploring this beautiful playground. There are climbing structures, slides, swings, merry-go-rounds, and all kinds of other fun things to do. There is also a nice covered picnic area to get out of the sun and take a break.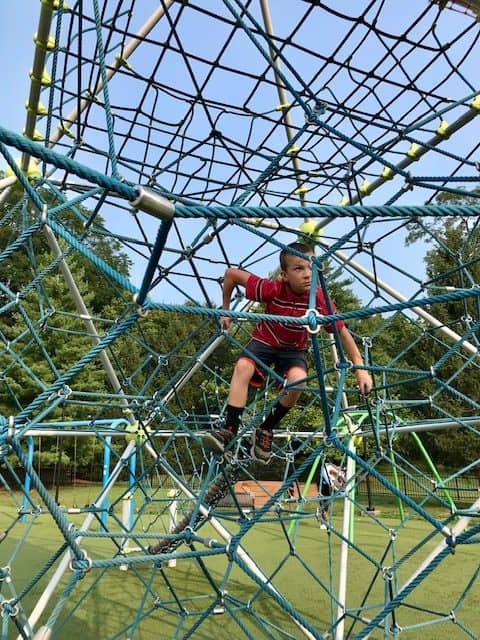 What did our kids think?
Our son, Panther, has this to say: "I loved going down the big green slide on top of the elephant! I just kept racing back up the stairs to go down again. We kept pushing past each other to ride the slide over and over!"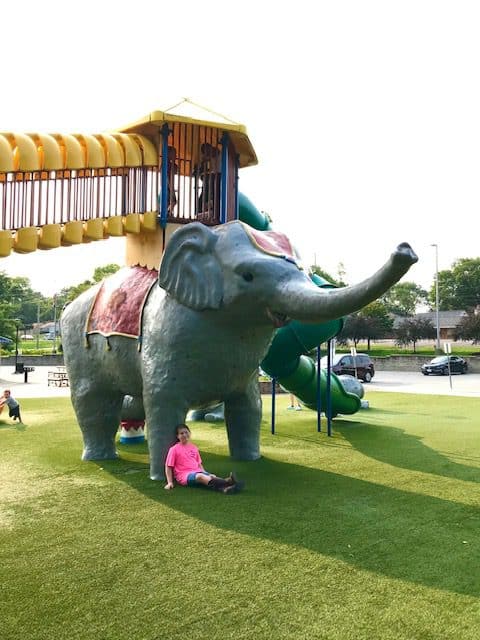 The Penguin Park is a great example of one of our parenting mantras— you don't have to spend money for kids to have fun. Kansas City, we hope we get to come back again to enjoy this fun park and the best barbecue we've ever had!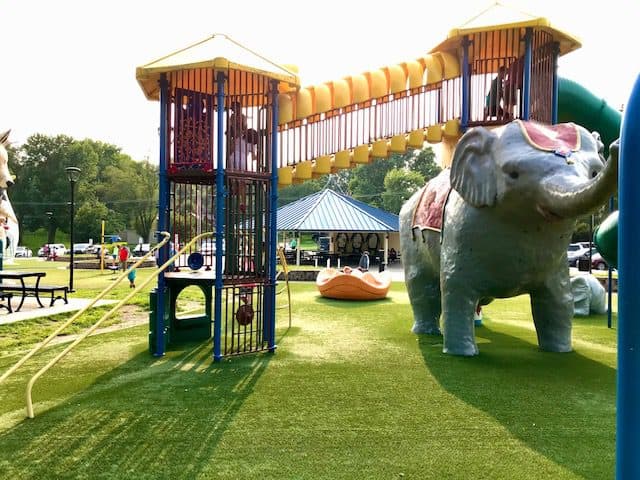 (This is part of a series about our family road trip from Oregon to Georgia and back in the summer of 2021. To start at the beginning of the series, check out our Ready, Set, Reset post.)
On our next travel day, we drove through Missouri and ended up at the Gateway Arch, after some concretes at Ted Drewes. Watch for details in our next post in the series!
© Copyright 2022 by Jennifer D. Warren. All rights reserved.